Donors and scholarship recipients celebrate at annual recognition dinner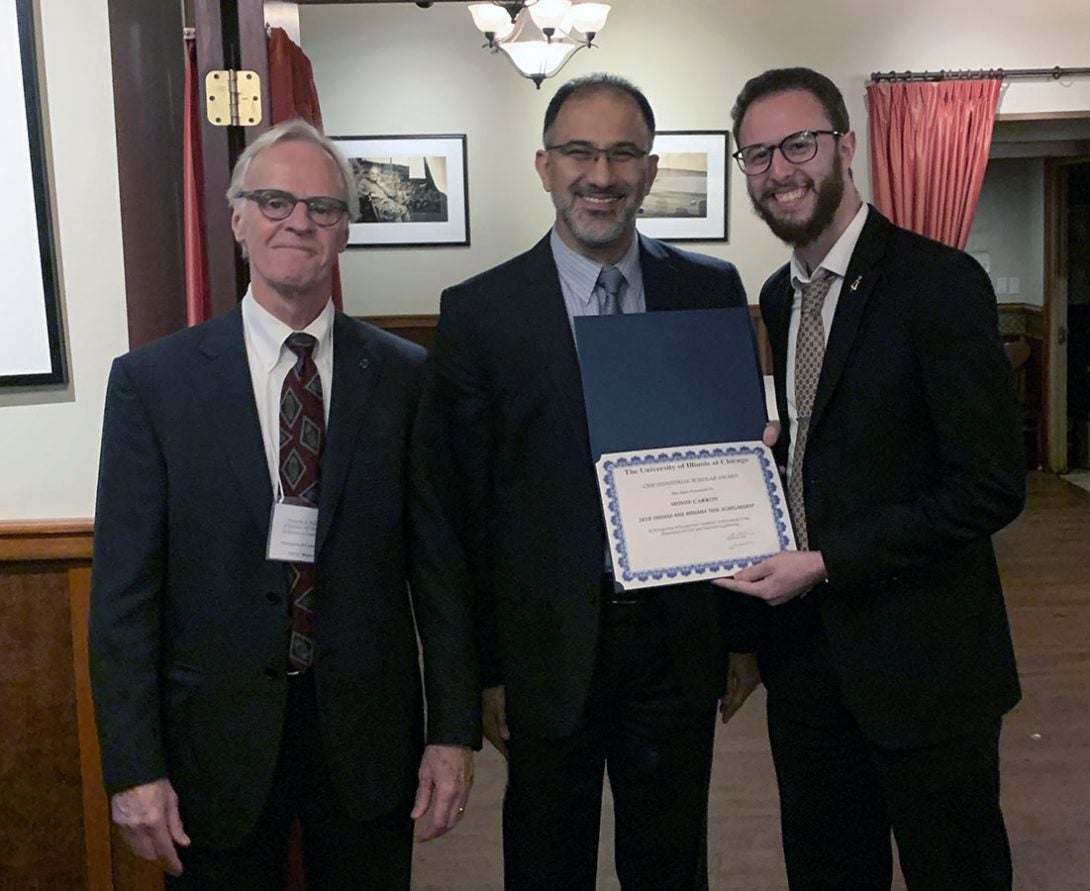 The annual Civil Engineering Professional Advisory Council (CEPAC) scholarship reception and awards dinner recognizes the generosity of scholarship donors and partners who give annually to students to help them pursue their academic and professional dreams. This year, CME awarded 23 scholarships, each of which support UIC in its mission to provide access to excellence and success to students. This year, two new awards were presented.
The Christopher B. and Susan S. Burke Civil Engineering Faculty Teaching Award is supported by Chris Burke, adjunct faculty member in the civil and materials engineering department, along with his wife, Susan. This award is made annually to faculty members who demonstrate dedication to students and a passion for teaching. It further recognizes those faculty members who have made an impact by engaging students and committing to their personal and academic success.
The William D. Unger Scholarship was established by Bill Unger, UIC alumnus and College of Engineering Advisory Board member, to support the recruitment of female students to the college and encourage them as future engineers and computer scientists.
Board members, many of whom are UIC alumnus, added personal stories to the ceremony as they detailed the scholarship requirements and the interests and accomplishments of the donors. And the recipients accepted the awards with appreciation.
"My first attempt at college was plagued with financial stress and hardship," said Michelle Calcagno, a CME student and scholarship recipient, who had to leave school after her second year and become a concrete laborer. "I tried to pursue my education over the years, but my long work hours and physically demanding job made it nearly impossible to do both," said Calcagno. "Fortunately, I had the opportunity to return to school full-time. Receiving a scholarship helps to ensure my success by reducing that burden."
Ken Nelson also received recognition for his contributions as the CEPAC chair. Nelson has decided to step down but will remain an active member of the council. CME alumnus Matt Huffman, a project manager at Christopher B. Burke Engineering, will be the new chair.
"Ken is a key member of the council, and we are grateful for everything he has done," said CME Department Head Abolfazl Mohammadian. "He tirelessly volunteered his time and resources to the department. By all measures, we have improved immensely with under his leadership."

Scholarship Donors and Recipients
DAVID E. BOYCE GRADUATE SCHOLARSHIP (DAVID E. BOYCE, DONOR)
Recipients—Amir Bahador Parsa, Ehsan Rahimi, Monique Stinson
PROFESSOR ROBERT H. BRYANT SCHOLARSHIP (ELLEN BRYANT, DONOR AND FACILITATOR)
Recipient—Tanja Rakovic
CHRISTOPHER B. AND SUSAN S. BURKE GRADUATE STUDENT AWARD (CHRISTOPHER B. BURKE AND SUSAN S. BURKE, DONORS)
Recipients—Mohammad Atif, Ahmed Tanvir, Ines Torra
CHRISTOPHER B. AND SUSAN S. BURKE CIVIL ENGINEERING FACULTY TEACHING AWARD (CHRISTOPHER B. BURKE AND SUSAN S. BURKE, DONORS)
Recipients—Hossein Ataei, Matthew Daly
ROSEMARY BURKE SCHOLARSHIP (CHRISTOPHER B. BURKE, DONOR)
Recipients—Michelle Lemus Alvarez, Wiktoria Danowska
CEPAC SCHOLARSHIP (KEN NELSON, DONOR AND FACILITATOR)
Recipient—Nanda Setyarini
CLARK DIETZ SCHOLARSHIP (JON HOWANIEC, FACILITATOR)
Recipient—Jay Avitia
PROFESSOR EDWARD H. COE SCHOLARSHIP (ANONYMOUS DONOR)
Recipient—Karen Portillo
L.J. HALBERT SCHOLARSHIP (DEBRA P. EVANS, DONOR)
Recipient—Jacob Miguest
NANCY ANDERSON HOLMES SCHOLARSHIP (NANCY ANDERSON HOLMES, DONOR)
Recipient—Jonathon Toczek
ILLINOIS ASPHALT PAVEMENT ASSOCIATION SCHOLARSHIP (KEVIN BURKE III, FACILITATOR)
Recipient—Amir Bahador Parsa, Abdul Aziz Shaban
ILLINOIS ROAD & TRANSPORTATION BUILDERS ASSOCIATION (IRTBA) SCHOLARSHIP (KATHY KAPOVICH, FACILITATOR)
Recipient—James Berggren, Michelle Calcagno
INFRASTRUCTURE ENGINEERING SCHOLARSHIP (MICHAEL SUTTON, FACILITATOR)
Recipient—Tresor Moolo
PROFESSOR DUSAN KRAJCINOVIC SCHOLARSHIP (ANONYMOUS DONOR)
Recipient— Andres Cruz
OLIVE CHACEY KUEHN AND ALFRED L. KUEHN SCHOLARSHIP
Recipients— Trevor Cannon, Cody Cetnarowski, Ronny Gomez-Morales, Muntather Merei, Mateusz Pec
WILFRED F. AND RUTH DAVISON LANGELIER SCHOLARSHIP (WILFRED LANGELIER, DONOR)
Recipients—Jonathan Diaz, Gerardo Medrano-Martinez, Christopher Schaal
KENNETH E. NELSON SCHOLARSHIP (KENNETH E. NELSON, DONOR)
Recipient—Christopher Schaal
SAMARTANO & COMPANY/HENRY MAREK SCHOLARSHIP (JAMES A. SAMARTANO, DONOR) Recipient—Quadros Royce
SWE KNOWLES ELECTRONICS SCHOLARSHIP (JEFFREY NIEW, FACILITATOR)
Recipients —Wiktoria Danowska
THOMAS AND ROMANA TING SCHOLARSHIP (THOMAS TING, DONOR)
Recipient—Moshe Carron
TURNER CONSTRUCTION SCHOLARSHIP (GREG MULAC, FACILITATOR)
Recipients— Diego Alvarado, Cleo Jaurigue, Caitlin Koziel, Caroline Koziel, Ismael Lopez
WILLIAM D. UNGER SCHOLARSHIP (BILL UNGER, DONOR)
Recipient—Chelsea Salgado
ROSE L. VEDRAL SCHOLARSHIP (ANONYMOUS, DONOR)
Recipient—Jeremy Borjas
Modified on December 16, 2019