Early advisory board member Harold Sandberg passes away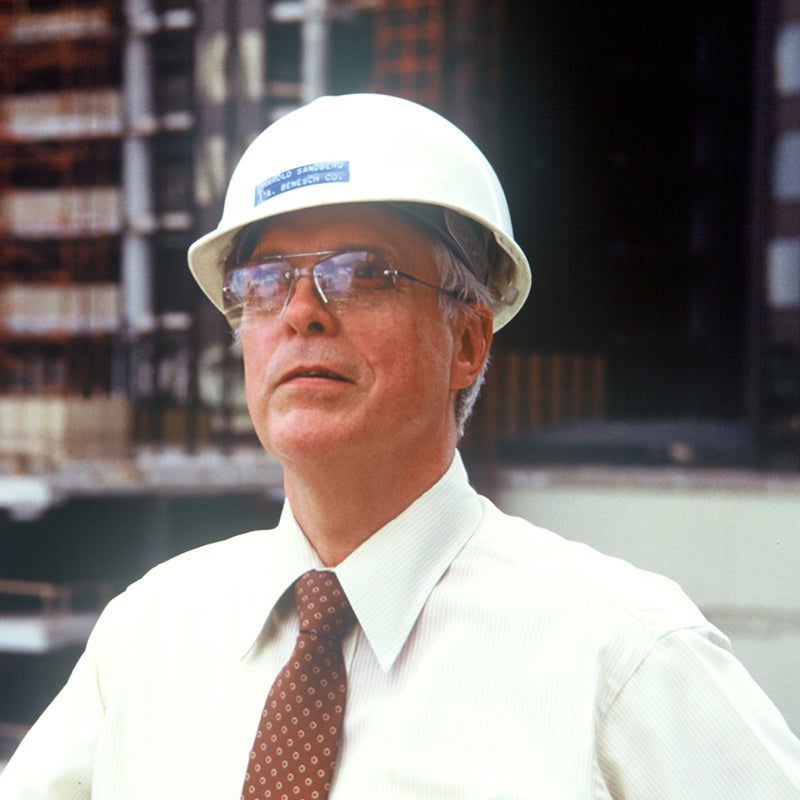 It is with sadness that I inform you that CME's long term friend, Mr. Harold Sandberg passed away on Monday. Harold was one of the College of Engineering's early industrial advisory board members who served the college for many years. Harold was mentor to several of our faculty. I was privileged to have met him and many of our colleagues had the fortune to interact with him. He generously provided seed funding for our high bay structural lab in 2014, wanting UIC to have the first high bay structural testing facility in metropolitan Chicago. He wanted our students to be able to see structural behavior and failure as part of their design courses. Harold's imprint on UIC will be everlasting.
Harold Sandberg was one of the 20th century's most highly-renowned structural engineers and bridge designers.  In 1947 after leaving the US Navy, Harold began his engineering career at Alfred Benesch & Associates as the company's first employee, hired by its four founders and eventually succeeded Alfred Benesch as president in 1971 and served Chairman until 2005. Harold was the principal designer on several major Mississippi River bridges, and also as the structural engineer for Harbor Point Tower, the 54-story tower which is an engineering marvel built in the 1970s.
Harold had an amazing life and a wonderful impact at UIC, on the industry, and to all who interacted with him.  So many cannot talk about the UIC Department of Civil and Materials Engineering without mentioning Harold's great contributions to it.
We are saddened by Harold Sandberg's loss and extend our sympathies to his family.
Peace to his memory.
Sincerely,
Abolfazl (Kouros) Mohammadian, PhD
Professor and Department Head
Department of Civil and Materials Engineering
University of Illinois Chicago
Modified on July 02, 2020