Graduate students win prestigious scholarships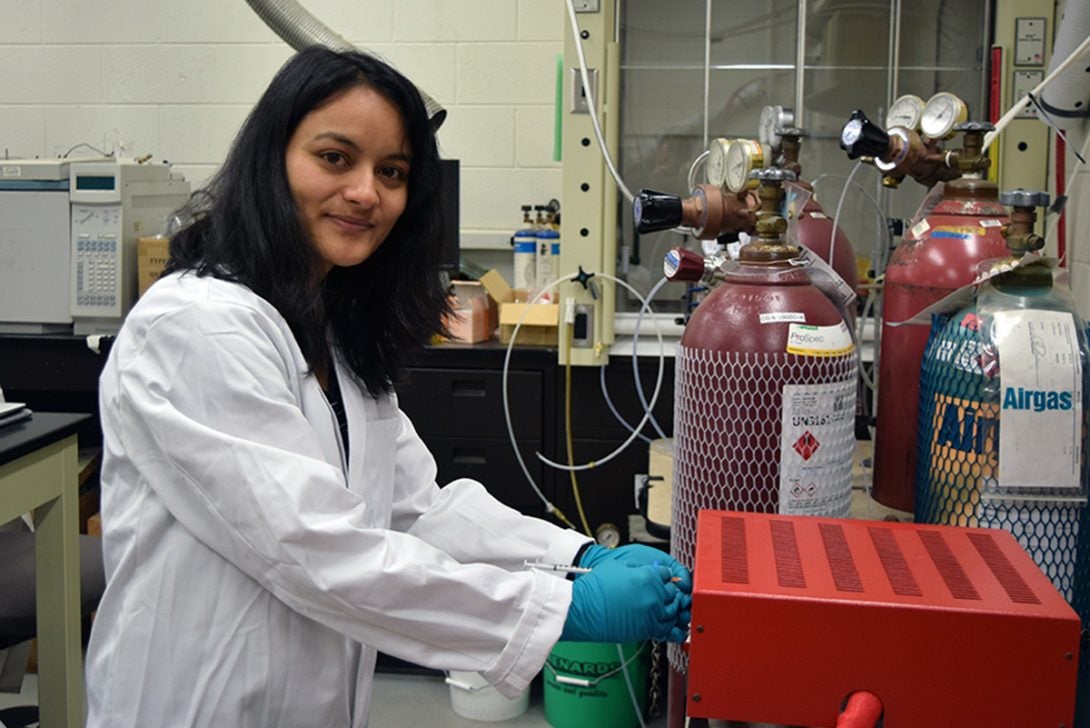 Two CME graduate students were awarded competitive and prestigious scholarships from the ASCE Illinois section during the 2019 Student Scholarship Dinner on Wednesday, April 17 at Maggiano's.
PhD candidate Jyoti Chetri received the ASCE Geo-Institute Scholarship in the amount of $1,000.
She is working under the direction of CME Professor Krishna R. Reddy in the Sustainable Engineering Research Lab and the Geotechnical and Geoenvironmental Engineering Lab where they are working on developing an innovative steel slag-biochar-soil cover for municipal solid waste landfills to mitigate fugitive landfill emissions. Landfills are the major sources of anthropogenic greenhouse gases, and developing steel slag, biochar amended soil cover will prove a turning point in the field of landfills and steel industry. It will not only hold in emissions from landfills but also solve one of the biggest problems of steel industry which is stockpiling of waste slag.
PhD candidate Girish Kumar receiving the Environmental and Water Resources Institute (EWRI) Scholarship in the amount of $1,000.
Kumar also works under the direction of Reddy in his labs at UIC. His research focuses on understanding the fundamental processes that occur within the waste when it is dumped in a landfill and mathematically interpret those processes to be able to predict the behavior of the entire landfill system. This will ultimately help in designing stable, effective and, more importantly, sustainable landfills. His research offers an alternative to the conventional landfills in the form of bioreactor landfills. In these landfills, the collected chemical liquid derived from waste degradation and other permitted liquids are recirculated into the landfills via recirculation systems to enhance the moisture conditions and accelerate waste degradation. The benefits including enhanced biogas production and early waste stabilization among others.
In May, Kumar received won Air & Waste Management Association (AWMA) scholarship in the amount of a $2500 for his "academic excellence and professionalism."
He received the Sustainability Research and Study Related to Air Quality and Waste Management Scholarship, which is a designation recognizing his exceptional work in Air Quality Research and Study at the 12th Annual Conference & Exhibition, in Quebec City, Canada at the Student Awards Ceremony and Reception on June 26.
Find more information about CME's graduate studies at http://cme.uic.edu/graduate-studies.
Modified on December 11, 2019