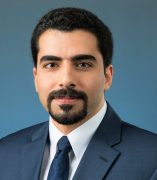 Ramin Shabanpour, PhD
Visiting Research Assistant Professor
Civil and Materials Engineering
Contact
Building & Room:
2069 ERF
Address:
842 West Taylor Street, MC 246, Chicago, IL 60607
Office Phone:
Email:
About
Adoption & Policy Implications of Smart Mobility Technologies: Vehicle Automation, Electrification, and Ridesharing services
Urban Transportation Planning: Microsimulation Activity-Based Models, Travel Behavior & Time Use Analysis
Sustainable Transportation Systems: Integrated Land-use, Transportation, Environment & Energy Models
Disaster Management: Emergency Evacuation Planning
Econometric and Statistical Analysis, Discrete Choice Modeling
Application of Machine Learning and Big Data Analytics in Transportation
Selected Publications
A complete list of my publications is available here: Google Scholar or ResearchGate
Book Chapters:
Shabanpour R, Golshani N, Stephens TS, Auld J, Mohammadian A (2019) Developing a Spatial Transferability Platform to Analyze National-level Impacts of Connected Automated Vehicles. In: Briassoulis H., Kavroudakis D., Soulakellis N. (eds) The Practice of Spatial Analysis. Springer, Cham. doi: 10.1007/978-3-319-89806-3_12.
Stephens TS, Auld J, Chen Y, Gonder J, Kontou E, Lin Z, Xie F, Mohammadian A, Shabanpour R, Gohlke D (2019) Assessing Energy Impacts of Connected and Automated Vehicles at the U.S. National Level – Preliminary Bounds and Proposed Methods. In: Meyer G., Beiker S. (eds) Road Vehicle Automation 5. Lecture Notes in Mobility. Springer, Cham. doi: 10.1007/978-3-319-94896-6_10.
Shamshiripour A, Shabanpour R, Golshani N, Auld J, Mohammadian A (2019) A Flexible Activity Scheduling Conflict Resolution Framework. In: Goulias K.G., Davis A.W (eds) Mapping the Travel Behavior Genome: The Role of Disruptive Technologies, Automation, and Experimentation. Elsevier. doi: 10.1016/B978-0-12-817340-4.00016-4.
Journal Papers:
Shabanpour R, Golshani N, Shamshiripour A, Mohammadian A (2018) Eliciting Preferences for Adoption of Fully Automated Vehicles using Best-Worst Analysis. Transportation Research Part C: Emerging Technologies. doi: 10.1016/j.trc.2018.06.014
Shabanpour R, Golshani N, Tayarani M, Auld J, Mohammadian A (2018) Analysis of Telecommuting and Impacts on Travel Demand and the Environment. Transportation Research Part D: Transport and Environment. doi: 10.1016/j.trd.2018.04.003
Shabanpour R, Shamshiripour A, Mohammadian A (2018) Modeling Adoption Timing of Autonomous Vehicles: Innovation Diffusion Approach. Transportation. doi: 10.1007/s11116-018-9947-7
Golshani N, Shabanpour R, Mohammadian A, Auld J, Ley H (2019) Evacuation decision behavior for no-notice emergency events. Transportation Research Part D: Transport and Environment. doi: 10.1016/j.trd.2019.01.025
Rahimi E, Shamshiripour A, Shabanpour R, Mohammadian A, Auld J (2019). Analysis of transit users' waiting tolerance in response to unplanned service disruptions. Transportation Research Part D: Transport and Environment. doi: 10.1016/j.trd.2019.10.011
Education
Ph.D. Civil Engineering, 2018
University of Illinois at Chicago, Chicago, USA
M.S. Civil Engineering, 2013
Sharif University of Technology, Tehran, Iran
B.S. Civil Engineering, 2010
Sharif University of Technology, Tehran, Iran