Alumna reflects on her 18-year career at USACE Chicago District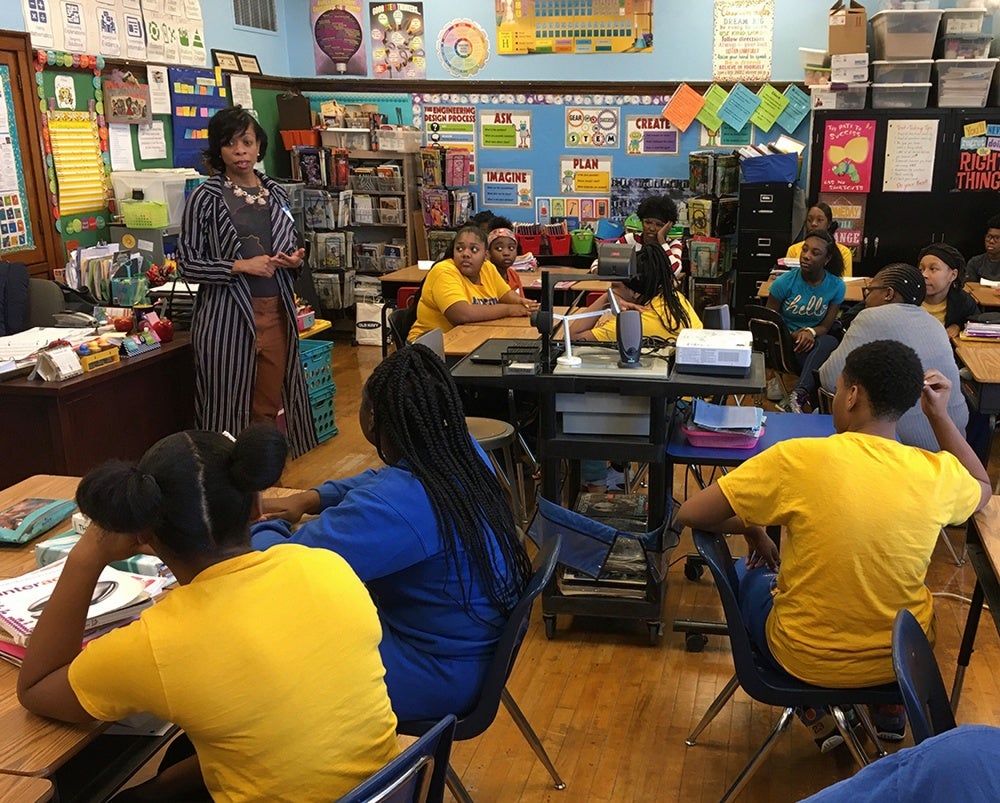 For 18 years, Natalie Mills has worked her way up from a summer co-op student to project manager (PM) at the U.S. Army Corps of Engineers' (USACE) Chicago District. And it all started with a flier.
In 2001, while she was walking to class at the University of Illinois Chicago (UIC), she spotted a USACE announcement on a "jobs" board.
"It said that the Corps' Chicago District was looking for a summer engineering co-op student," Mills said. "So I went online and applied. Then, a few weeks later, I received a call for an interview and I got the job."
She has a bachelor's degree in civil engineering from Alabama A&M University and a master's degree in civil engineering from UIC. And she said it was a high school counselor that steered her way toward engineering.
"My counselor told me that since I liked math and science, I should study engineering," Mills said. "The more I researched the roles and responsibilities for an engineer, I knew that my counselor was correct. I WOULD be an engineer. From the very first semester of college, I began taking actual engineering courses. At that point, I knew I was up for a serious challenge with my course load. However, the more classes that I took, the more I enjoyed the challenge of solving problems, learning more, and working with teams."
Mills began as a co-op student in the district's Environmental Engineering Section for three months. Then, for two years, she was a rotational intern in the Geotechnical, Hydraulics, and Structural sections, and the Calumet Area Office in Griffith, Indiana. She said this is when she discovered where she fit in best.
"The great thing about the rotational program was understanding how the disciplines worked together to achieve the Corps mission," she said. "I understood that my small piece of the puzzle was an integral part of the big picture."
Today, she manages 35 projects, and works alongside many partners such as the U.S. Environmental Protection Agency and the U.S. Department of Veterans Affairs. As a PM, she said she works with various organizations inside and outside of the Corps to make sure that her projects are going as planned – and that means according to schedule and within budget.
"PM's are the company commanders of the organization," Mills said. "We're responsible for the overall management, control, coordination, and execution of assigned projects. To that end, project managers are responsible for the formulation of the project teams. With the help of the project delivery team, the PMs prepare project scope, schedule, and budget."
Throughout her vocation, she's taken time out of her schedule to speak to students about her career because she said it's important to give back. Yesterday, to commemorate National Engineers Week, she spoke to an engineering club at one of the district's partner schools, Dixon Elementary, on the city's South Side.
"Take every opportunity to shadow a professional in your field," she said to the group. "Also, seek internships every summer. It helps an employer to know that you're serious about your career."
Last week, Mills was recognized as a Modern-Day Technology Leader at the Black Engineer of the Year Awards Conference in Washington, D.C.
She said she looks forward to continued success with the Corps – and serving the nation.
"I have thoroughly enjoyed my years at the Corps," Mills said. "The work has been fulfilling and my co-workers are amazing. The most impactful thing about what we do is serve the people of this nation. The work that we do directly impacts the lives of people through the shorelines that we protect, the restoration of the environment, and the measures that we take to mitigate flood risks. We are the nation's engineers!"
Modified on July 02, 2020