Annual scholarships keep students in the classroom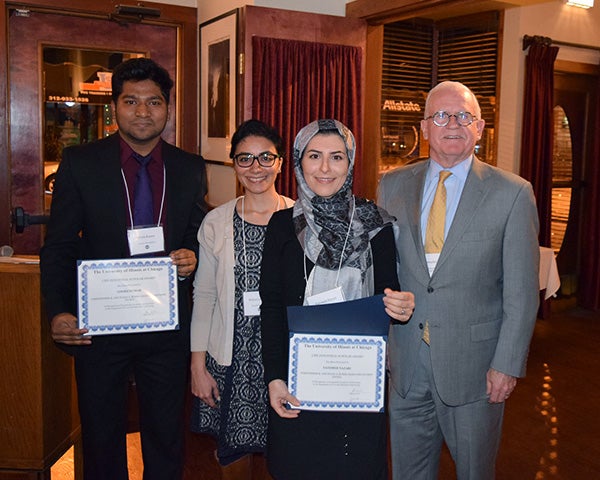 A group of students in civil, materials, and environmental engineering received good news during an otherwise tumultuous year: they were awarded scholarships that will help cover their tuition, provide unique opportunities, and set the stage for their success.
The scholarships are awarded annually during the Civil Engineering Professional Advisory Council (CEPAC) scholarship reception and awards dinner, which recognizes the generosity of scholarship donors and partners who help students to pursue their academic and professional dreams.
While the event was cancelled this year due to COVID-19, generous donors still provided more than $67,000 to support the students, including two new scholarships.
The first new scholarship, the Brindley Engineering Scholarship, was created by CEPAC member Tom Brindley, president of Brindley Engineering, to benefit undergraduate CME students with demonstrated financial need, ideally those who have an interest in structural engineering and who are working to support their education.
The existing L. J. Halbert Scholarship, which was recently endowed, was established by CEPAC member and UIC materials engineering alumna Deb Evans (MS '85) in memory of her father, L. J. Halbert. The award seeks to recognize civil or materials engineering students who are members of the National Society of Black Engineers and/or the Society of Women Engineers.
Anahi Soto, who received the Brindley Engineering Scholarship, testified to the value of these donor-funded programs. "As a result of the pandemic, my parents were laid off and I had unexpectedly become the primary provider for my family," Soto said. "Receiving this scholarship was the difference between taking a semester off to support my family, ensuring that we had the financial means to pay our bills, and continuing my education."
Scholarship Recipients and Donors
Alfred Benesch & Company Scholarships
Recipients: Kyle Berry and Jonathan Toczek
Donor/Facilitator: Greg Stewart/Mark Bendok
Brindley Engineering Scholarship
Recipient: Anahi Soto
Donor: Tom Brindley                           
Professor Robert H. Bryant Scholarship
Recipients –Jashua Flores and Royce Quadros
Donor/Facilitator: Ellen Bryant
Christopher B. and Susan S. Burke – Civil Engineering Graduate Student Award
Recipients: Emad Norouzzadeh, Jyoti KC, and Gorkem Okudan
Donor: Chris Burke
Christopher B. and Susan S. Burke Civil Engineering Faculty Teaching Award
Recipients: Professors Sara Kadkhodaei and Joseph Shulenberg
Donor: Chris Burke
Rosemary Burke Scholarship
Recipients: Chenille Lawrence, Shioban Moran
Donor: Chris Burke
CEPAC Scholarship
Recipients: Alisher Dardanbayev, John David, Sulaman Hyder, Jeremy Yakes, and Nanda Setyarini
Donors: CEPAC members
Professor Edward H. Coe Scholarship
Recipient: Valeria Vesco
Donor: Anonymous
Clark Dietz Scholarship
Recipient: Manuel Flores Martinez
Donor/Facilitator: Jon Howaniec/Chester Kochan 
L.J. Halbert Scholarship
Recipient: Kamaria Crowley
Donor: Deb Evans
Nancy Anderson Holmes Scholarship
Recipient: Michelle Lemus Alvarez
Donor: Nancy A. Holmes
Illinois Asphalt and Pavement Association (IAPA)
Recipients: Mohammad Mirzaei, Moutz Slim, and Gabrielle Simone Yates
Donor/Facilitator: Anne Bigane Wilson and Kevin Burke III
Infrastructure Engineering Scholarship
Recipients: Starish Enonuya, Cynthia Rivas
Donor: Michael Sutton
SWE Knowles Electronics Scholarship
Recipient: Chenille Lawrence
Donor: Jeffrey S. Niew                                                
Professor Dusan Krajcinovic Scholarship
Recipient: Nanda Setyarini
Donor: Anonymous
Wilfred F. & Ruth Davison Langelier Scholarship
Recipients: Kyle Berry, Anisha Patel, and Karina Rosiles
Donor: Wilfred F. and Ruth Davison Langelier
Kenneth E. Nelson Scholarship
Recipients: Haley Dahl and Andres Esparza Cruz
Donor: Ken Nelson
Samartano & Company/ Henry Marek Scholarship
Recipient: Jasper Gabriel
Donor: James Samartano
Harold R. Sandberg Scholarship
Recipients: Abdulla Ali, Anthony Antonyuk, and Cleofe Jaurigue
Donors: Harold and Alice Sandberg
Sargent and Lundy Scholarship
Recipient: Steve Hui
Donors: Sean McHone, Tom Meehan, Anthony Neri Ejaz Shameem, and Shiven Sulkur
Thomas and Romana Ting Scholarship
Recipient: Boston Kuchar
Donor: Tom Ting
Turner Construction Scholarship
Recipients: Muhammad Abdullah, Jose Gutierrez, Natalie Palarz, Edwardo Serrano, and Irlanda Solis
Donor/Facilitator: Greg Mulac
Rose L. Vedral Scholarship
Recipient: Jonathan Pillado
Donor: Anonymous
Modified on November 13, 2020