CME student helps team win at 'Student Days Competition'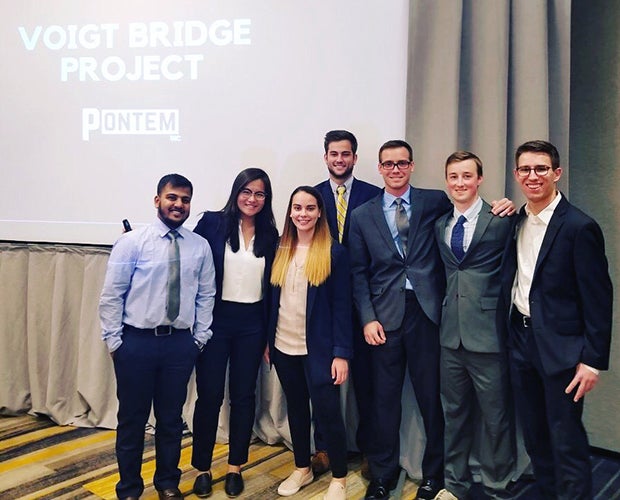 2018 Student Days Winning Team's Presentation from Construction Institute of ASCE on Vimeo.
Huzefa Dewaswala, a master's student in Department of Civil and Materials Engineering's (CME) Construction Engineering program, was a key member on the winning team during the recent Student Days Conference,which was part of the 2018 National ASCE Construction Institute's Heavy Civil Competitions in San Diego.
The Construction Institute brought only 35 students to the conference and team competition. Five teams created written and oral proposals to build the Voigt Street Pedestrian Bridge, a component of the Mid-Coast Corridor Transit Project in San Diego.
Dewaswala's team, Pontem Inc., was awarded the winning bid, and consisted of teammates from Stony Brook University, Princeton University, University of South Florida, New York University, University of Kentucky, and Purdue University. He joined the team after Nelsy Badia, of Stony Brook University, connected with him on LinkedIn.
"I liked her ideas of diversity in the team and leading the team of people with different backgrounds, so I decided to be a part of her team," said Dewaswala.
Apart from the diversity, Dewaswala was enticed by the two key roles he was responsible for overseeing.
"I was assigned as a Project Control Engineer and the Director of Environmental Assessment," he said. "I set the guidelines for quality control of the Voigt Street Pedestrian Bridge Replacement project, and prepared a risk management plan and a safety agreement for the subs. I also assisted in incorporating all the addendums in the proposal and the final bid."
While Dewaswala and his teammates faced strong competition, they worked hard and put together a proposal that set them apart from the others.
"It's all late nights and hard work, which paid off making our team's proposal stand out from others," he said. "The competition was not based on the lowest bid. It was about the best value bid, which addressed all the specifications by Caltrans and special provisions set by EPA and University of California, San Diego. We included all the details meticulously in the proposal, gave them the most complete final product, and the judges really liked our presentation."
Dewaswala said he was grateful to be part of the competition and the entire conference as it provided real-world experience.
"It was one of a kind experience as I got to connect with amazing professionals from industry and learned so much from them," he said. "The best part was working with great people and it felt that we all were best friends and knew each other for so long. There was pressure and stress when we were working on the project because of the deadlines, but it felt so good once we were done submitting our bids and the proposal. It was a great event to experience real-world scenario with limited time and resources and to compete with the others just believing in your team. I highly recommend this event."
His success at the conference stems from his work at UIC where he has excelled as a student and worked on projects that prepared him for the competition.
"Huzefa has taken four Construction Engineering and Management courses with me in the past academic year, namely: Construction Engineering and Management; Construction Equipment and Design; Construction Regulations and Organizational Management; Construction Management Project Controls. In each of these courses, Huzefa and his teammates have completed many real-world course projects and delivered professional group presentations that are specifically tailored for them with the aim of preparing our MS graduates for successful careers in Construction Engineering and Management," said CME Clinical Assistant Professor Hossein Ataei. "Huzefa is one of our excellent students and I have great confidence in his professional and career success."
CME's Construction Engineering and Management program focuses on best practices in Integrated Construction Project Management  with regards to the optimization methodologies for the construction projects given the multitude of constraints including the project budget, schedule, risk, quality requirements, human resources, communication channels, procurement practices and the stakeholder management.
Learn more about the department's Construction Engineering and Management program at CME Research Areas.
Modified on August 15, 2019