PhD candidate wins Outstanding Paper Award at city logistics conference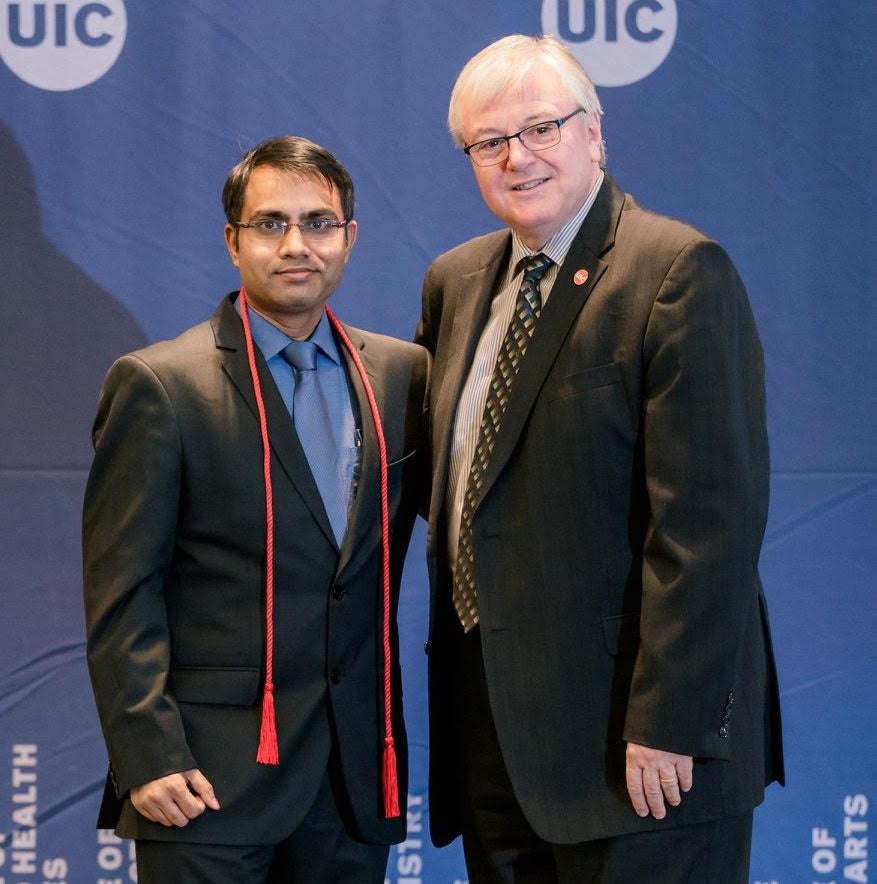 Sudheer Ballare, a PhD candidate in Civil and Materials Engineering, has won previous awards at UIC, but his most recent win proves UIC is a top school to be recognized.
Ballare won the Outstanding Paper Award for Best Presentation at the 11th International Conference on City Logistics in Dubrovnik, Croatia, held from June 12 to 14. He presented a paper called "Investigating the use of microhubs and crowdshipping for last mile delivery," which Ballare co-authored with Jane Lin, an associate professor in CME. The conference is the prime in the field and highly selective. It's intentionally kept at a small size of no more than 100 participants.
"I really feel honored to have been selected by a panel of international subject-matter experts in the field of urban freight for the outstanding paper award," said Ballare. "I am grateful for the recognition I have received for my research work with my advisor Professor Jane Lin, because I am certain that every other conference participant considered for this award was as capable, if not more, of winning this award. What adds to the sweetness of winning this award is that this was my first time attending this particular conference."
Ballare, who works under the direction of Lin in the Transportation Computational Laboratory at UIC, presented his research like a seasoned veteran.
"The biggest challenge of this conference was without doubt the competition from the experts with several years of research behind them," he said. "Being a first-time attendee and among the youngest participants at the conference, the challenge was also to present my research in a convincing manner to an informed audience and sustain through their examination."
His research focuses on solutions to reduce the negative impacts of urban freight delivery like congestion and emissions by making use of new mobility forms such as crowdsourced delivery and new vehicle technology. Similar to ride-sharing models, the research is geared toward replacing dedicated commercial vehicles in an urban environment with crowdsourced alternatives like pedestrians, bicyclists, taxis, and automobiles.
"The proposed urban freight delivery mechanism in my research will cater to the increased demand from e-commerce, being faster and flexible than the conventional delivery mechanism," he said. "Our proposed delivery mechanism will reduce the cost of package delivery, vehicle miles traveled, emissions and congestion."
"This is an essential piece of his doctoral thesis. It's funded by an NSF grant entitled PFI: BIC Enhancing Intelligence of CROwdsourced Urban Delivery (CROUD)," said Lin, who is the PI for the grant. "I've been advising him on the problem formulation and development of solution algorithms, more so in the first two years and he's been in the driver seat in the past year or so. He's developed an efficient solution method for a large-scale, last-mile delivery network. He's evaluated his method and demonstrated that it's computationally more efficient with similar solution quality."
"Professor Lin is immensely knowledgeable and is not hesitant to share her deep insights with her students," said Ballare. "Over the past four years, she has contributed in terms of time and ideas to make my work productive and stimulating. Her valuable suggestions, comments and guidance at various stages of my research are the primary reason for my success."
Ballare started an internship with the U.S. Environmental Protection Agency in Ann Arbor, Michigan, in July 2018 and has been working with the agency's on-road emissions modeling team. He is slated to defend his thesis in late summer.
Learn more about Professor Lin's research at https://sites.google.com/uic.edu/sustrans/home. Learn more about CME's graduate programs at https://cme.uic.edu/graduate.
Modified on December 11, 2019