CME students host successful ASCE Great Lakes Student Conference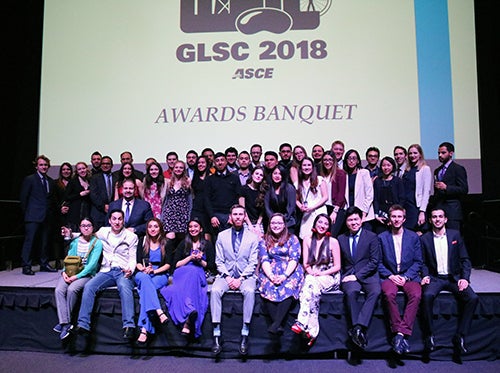 CME students showed their leadership ability as they successfully hosted the 2018 ASCE Great Lakes Student Conference (GLSC) in April. The team also won two competitions during the conference.
Apart from organizing, the students ambitiously attempted to compete in all 15 competitions they organized for the annual conference. A challenge that was made more difficult with the addition of eight new events. UIC managed to capture first place in the Scavenger Hunt and second place in the Wooden Bridge Design competition.
The event's success was made possible by the hard work from the more than 40 committee members, more than 100 volunteers, 50 plus judges, and more than 500 students from 19 universities who contributed thousands of hours of hard work throughout the past year.
"I am incredibly proud of everything we have accomplished in our student chapter this year," said Diana Briones, president of UIC ASCE. "I feel humbled to have been able to lead a chapter filled with so many talented and hard-working people."
The conference encompasses schools from southern Wisconsin, northern and central Illinois, and Indiana. In total, the GLSC is composed of 19 universities and is one of the largest regions based on number of schools. Apart from UIC, the participating colleges include Bradley, IIT, Indiana State University, Indiana University – Purdue University Fort Wayne, Marquette University, Milwaukee School of Engineering, Northwestern University, Purdue University Northwest, Purdue University West Lafayette, Rose-Hulman Institute of technology, Trine University, University of Evansville, University of Illinois Urbana Champaign, University of Notre Dame, University of Southern Indiana, University of Wisconsin Madison, University of Wisconsin, Milwaukee and Valparaiso University.
The ASCE Great Lakes Student Conference is an annual competition that travels to different universities each year. Students must actively participate in meetings and workshop days to be eligible to participate in the competitions and conference activities. ASCE is an engineering society devoted to advancing technologies, encouraging lifelong learning, promoting professionalism and the civil engineering profession, developing civil engineering leaders, and advocating infrastructure and environmental stewardship.
Modified on May 17, 2021