Donors, students, and faculty gather for annual scholarship dinner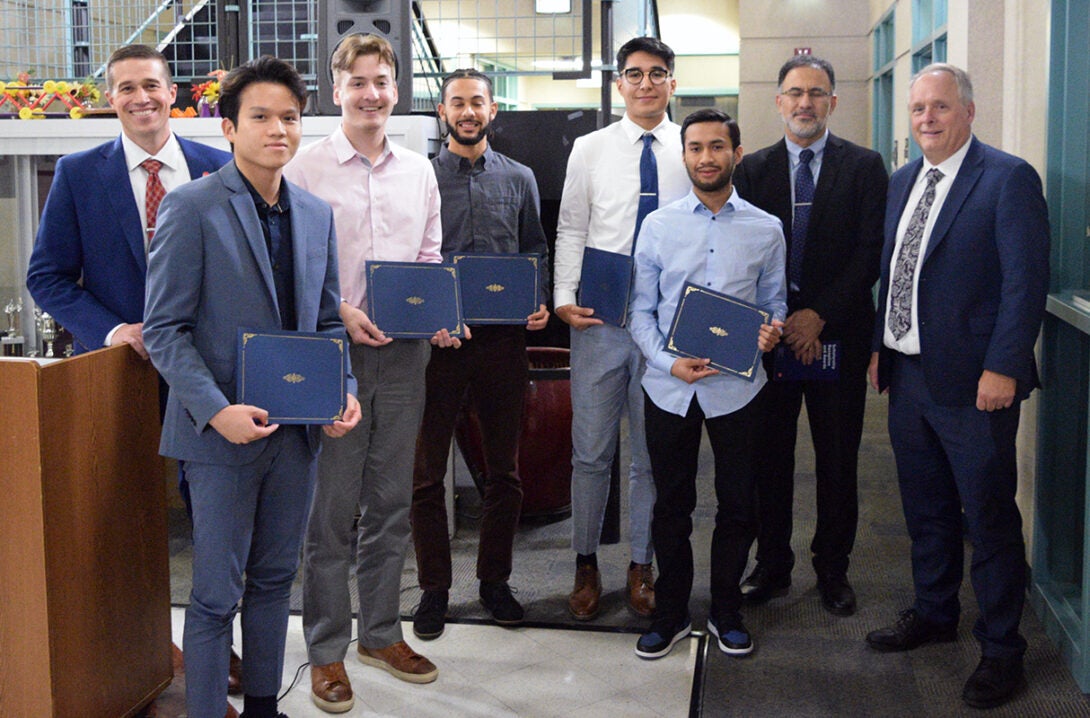 Donors, students, and faculty gathered on Nov. 9 at UIC for the Civil Engineering Professional Advisory Council (CEPAC) annual Scholarship Reception and Awards Dinner.
Through the generosity of donors and partners, the Department of Civil, Materials, and Environmental Engineering awarded 62 scholarships to students. The support helps UIC with its mission to provide access to excellent education and success for students.
"I remember being in your shoes, and things come full circle in your career, and you have a lot ahead of you and it's an exciting time to be a civil engineer. There's a tremendous amount of challenges ahead and you're going to be the next generation of solutions," said CME alumnus Matt Hoffman, who serves as the chairperson of CEPAC and is an engineer with Christopher B. Burke Engineering.
During the event, students received a certificate, and, in many cases, were able to meet the donor of their scholarship or a corporate representative. As they networked during dinner, many sponsors offered words of wisdom and encouragement.
"We have four core values – be together, creative, meticulous, and reliable," said Tom Brindley, president of Brindley Engineering Corporation. "Together is about helping one another and being part of a team. Creative. You are in a creative industry, and you are here to move society forward. Do so boldly. To be meticulous, never forget the seriousness of what you do. Whatever type of engineer you are going to be, it's serious business so make sure you are paying attention. And be reliable. That's being reliable as an individual. Extend a hand to others when they need help, and you are further along in your career."
SCHOLARSHIP DONORS AND STUDENT RECIPIENTS
Professor Dusan Krajcinovic Scholarship
Michael Nwaigbo
UIC Credit 1 Engineering Scholarship Fund
Cesar Lomeli Pulida, Avisekh Pokhrel, Lucio Chaidez, Kevin Philips, Jimena Adame, Hanan Alghizi, Oscar Sotelo Cepeda, Edward Serrano, Ismael Sanchez, Carlos Rios, Christian Lemus, Lydia Vulich, Genesis Rodriquez
Olive C. and Alfred L. Kuehn Scholarship
Alexander Cano Rodate, Nicholas Berland, Victor Gonzalez, Alex Hernandez, Carlos Gonzalez, Sanjaya Mahato, Rafael Garcia, Emad Alkhashani, Phuc Phan, Trevor Tousana, Christopher Zepeda, Christian Alcantara, Domink Wieckowicz, Hector Tellez
Robert H. Bryant Scholarship Fund
Hanan Alghizi, Oscar Cepeda, Edward Serrano
L.J. Halbert Merit Scholarship
Michael Nwaigbo
Dusan Krajcinovic and Family Scholarship
Valeria Hernandez, Samantha Pantoja
UIC CEPAC Scholarship
Genesis Rodriquez, Michael Nwaigbo, Dominik Wieckowicz, Wael Hassan, Andrew Greter, Lydia Vulich
UIC Harold R. Sandberg Scholarship Fund Quinton George
Ruby Cardenas
Rose L. Vedral Scholarship
Andrew Greter
Kasi Charitable Foundation Scholarship
Ruby Cardenas, Haley Dahl, Quinton George, Wael Hassan, Johanna Saulog
UIC Brindley Scholarship Fund
Ismael Sanchez, Carlos Rios, Christian Lemus
Illinois Asphalt Pavement Association Jerry Leifheit Memorial Scholarship ManarAhmad, Dafne Henriquez, Hector Tellez
Samartano & Company/Henry Marek Scholarship
Kelly Sanchez Moretta
Richard A. Cohn Scholarship for Women in Engineering
Evelyn Ochoa Arias
Kenneth E. Nelson Scholarship
Hector Tellez, Johanna Saulog
Thomas and Romana Ting Scholarship
Kelly Sanchez Moretta
Roy Howard Pollack Scholarship
Haley Dahl
Jose Deleon Scholarship
Gabriela Weffer
Sargeant & Lundy Scholarship
Ashley Chavez
Rosemary Burke Scholarship
To be announced soon
Modified on November 28, 2023