Engineering seminar takes off in High-Bay Lab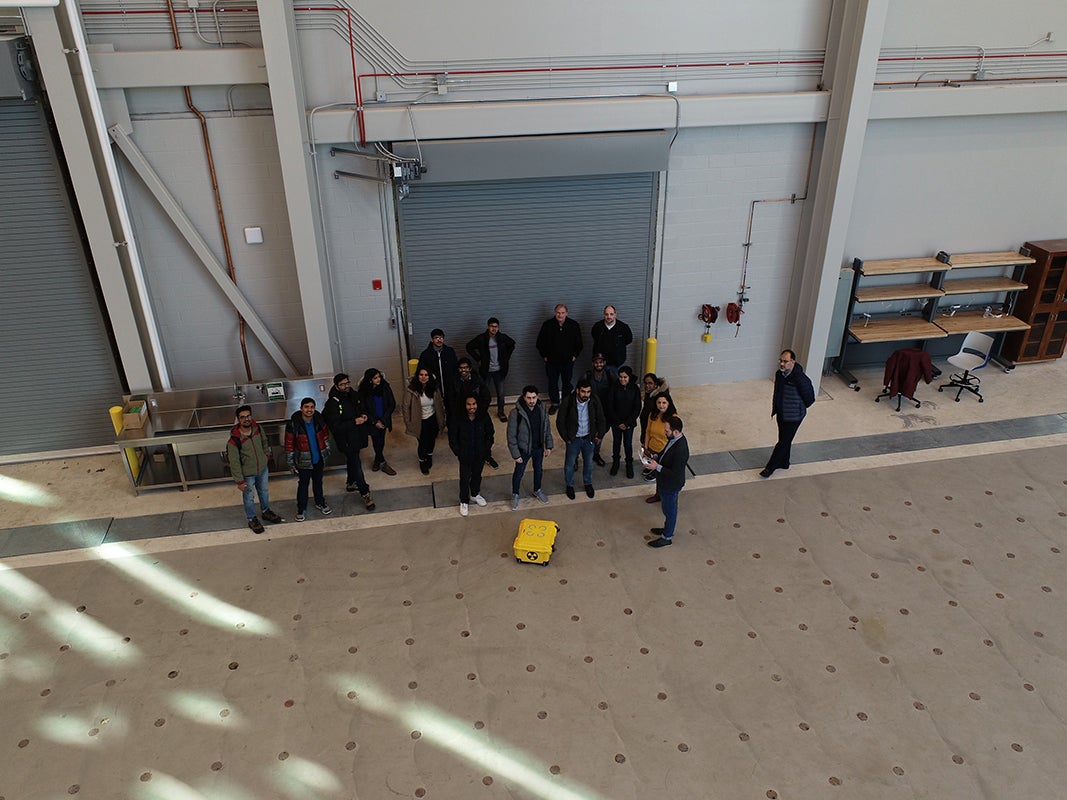 Drones are popping up in every industry, and civil and materials engineering is no exception. To provide UIC students with a real-world example of drones in the workplace, civil and materials engineering Professor Didem Ozevin hosted Brian Kravets, of UAS Operations Manager at SPACECO, Inc., for a special seminar called "UAV Presentation and Demo."
Kravets is responsible for the coordination of unmanned aerial vehicles (UAV) flights and data processing and analysis. He is the head UAV pilot, and was responsible for researching the technology and implementing a UAV workflow at SPACECO. He has worked in the civil engineering and surveying industry for 20 years as a CAD technician, IT manager, and now UAS operations manager. He has been flying drones recreationally for six years, and as a part of the SPACECO surveying department for four years. He graduated from Columbia College Chicago with a BA in film production.
During the seminar, Kravets addressed how "drones have changed the way infrastructure inspection, land surveying, and mapping are done." He discussed using UAVs to collect high-resolution aerial imagery, and create accurate 3D digital models. He also demonstrated the different types of datasets that can be created, and how civil engineers can use them in a variety of ways and when surveying fields. He showed the students how the drone can be moved faster or slower in x-y-z directions, and how drones are used for surveying inaccessible areas like large-scale structures such as bridges.
"Civil engineering needs to adapt new technologies for addressing engineering problems," said Ozevin. "When the survey area is large, point-to-point measurements with classical surveying is time consuming and expensive. We can understand damage due to flooding and hazards quickly with drones. Students need to be taught about these tools, and that is the main motivation for bring in a company utilizing UAVs on their projects."
Ozevin is slated to teach a new course during the fall 2020 semester called "Structural Inspection Using Unmanned Aerial Vehicles (UAVs)" which will have two drones to test in CME's new High-Bay Lab.