Engineering students build 3D model of Chicago's Loop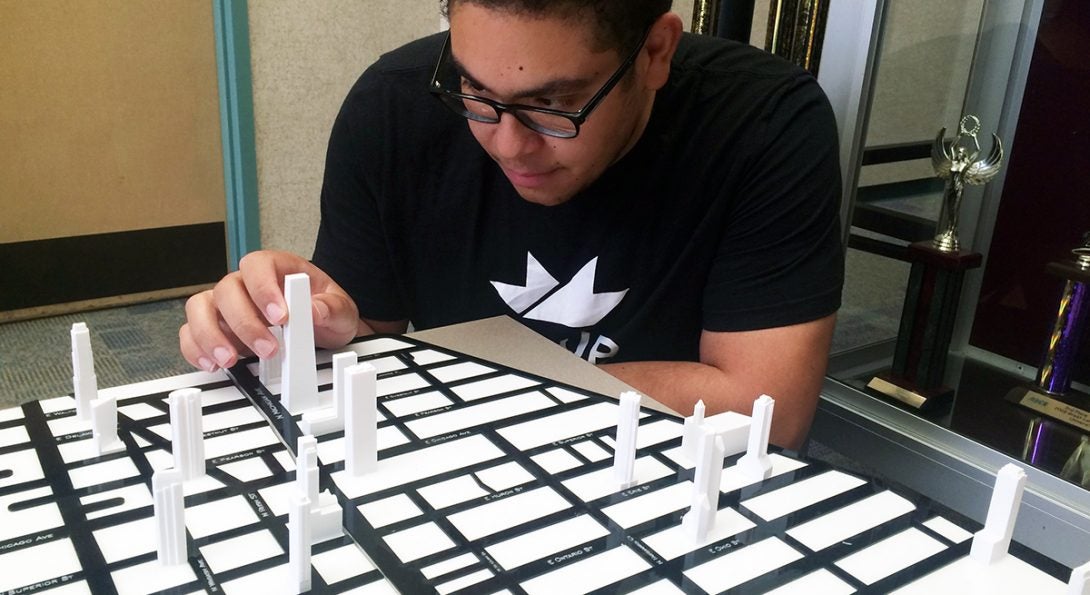 Civil and Materials Engineering (CME) students rebuilt Chicago's iconic skyline. Under the direction of Professor Sybil Derrible, CME junior Jacob Miguest spent the summer laying the ground work for a 3D metropolis in the College of Engineering's Makerspace. Now, the mini metropolis is on display in the CME department's atrium in the Engineering Research Facility, 842 W. Taylor St.
"The miniature replica was created to provide a model of the Chicago Loop to analyze how cities are built," said Miguest, who printed more than 100 buildings. "The purpose is to look at the density, spacing, and logic of how buildings are placed in Chicago."
Miguest isn't the only student learning from the project. Students in the Freshmen Engineering Success Program (FESP) worked on buildings for their second project of the first semester (See video).
"The main goal for them is to learn SolidWorks. They will practice their SolidWorks skills by doing some modeling for this project," said Miguest.
Apart from using SolidWorks, the students were able to contribute to and learn from a rea-world research project funded from an NSF grant called CyberSEES: Type 2: Data Integration for Urban Metabolism. The research is geared toward using novel datasets to gain an understanding of the flows of people and energy and resources in cities, including electricity, water, gas, food, and materials.
The research results will be incorporated in college courses, and outreach efforts include events for elementary and high school students to develop awareness about energy and resource consumption in cities from a data and computational perspective. The results of the project will ultimately help municipalities better provide the essential services need to their residents.
"It's good to know the city you're living in. It's good to know where things are at and where certain buildings are located," said Miguest. "I enjoy architecture and engineering, and that's why I really gravitated toward this project."
Learn more about Professor Derrible's research at https://csun.uic.edu/index.html.
Modified on August 15, 2019