Graduate students exhibit cutting-edge research during poster competition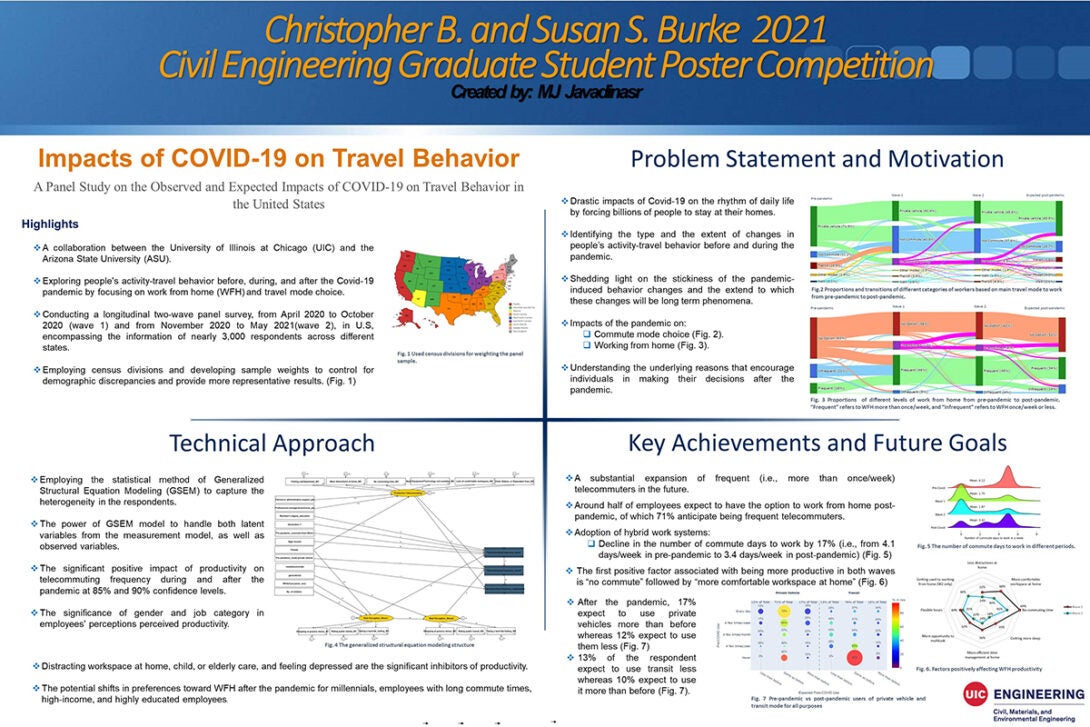 Three PhD candidates in the civil, materials, and environmental engineering (CME) department at UIC won the top spots during the annual 2021 Christopher Burke and Susan S. Burke Civil Engineering Poster Competition.
Mohammadjavad Javadinasr won first place with the poster titled "Impacts of COVID-19 on Travel Behavior."
"The COVID-19 pandemic caused many jobs to be shifted to a remote and online setting," he said. "We conducted a comprehensive survey in the U.S. to investigate the impacts of the pandemic on people's perception regarding this new experience. We strive to understand the impact of the pandemic on traffic pattern and demand for different transportation modes."
Javadinasr is working under the direction of Professor and Department Head Abolfazl "Kouros" Mohammadian in the Translab at UIC.
Ali Davariashtiyani captured second place with "Predicting Synthesizability of Crystalline Materials via Deep Learning."
"Suppose we want to make objects with higher qualities like faster computers, more durable batteries for smartphones, safer cars with better gas mileage, or many other things that you wouldn't even consider," Davariashtiyani explained. "In that case, we need to discover novel materials with higher performances, which is made simpler and faster for experimentalist scientists with the guidance of the software package we developed using computers and machine learning techniques."
He is working under the direction of Assistant Professor Sara Kadkhodaei in the Computational Materials Research Lab.
Junaid Ahmed received third place with "High Temperature Resistant High Entropy Alloy Development and Damage Detection Using Acoustic Emissions."
"The materials science community is working tirelessly to meet one specific demand from the industry – lightweight and stronger alloys. The recent success was the development of metastable high entropy alloys, namely Fe-Cr-Mn-Co based system, which exhibits much higher strength and ductility in comparison to industry leaders," he said. "Our lab manufactured this alloy to further explore the properties at various length scales."
Ahmed is working under the direction of Assistant Professor Matthew Daly in the Advanced Materials and Microstructures Lab.
The judges included Assistant Professor Sara Kadkhodaei, Associate Professor Amid Khodadoust, Professor Didem Ozevin, Clinical Assistant Professor Farid Peiravian, and Postdoctoral Researcher Ehsan Rahimi.
Learn more about the CME's doctoral programs at graduate.
Modified on December 08, 2022