New program will empower students of color, provide tools and resources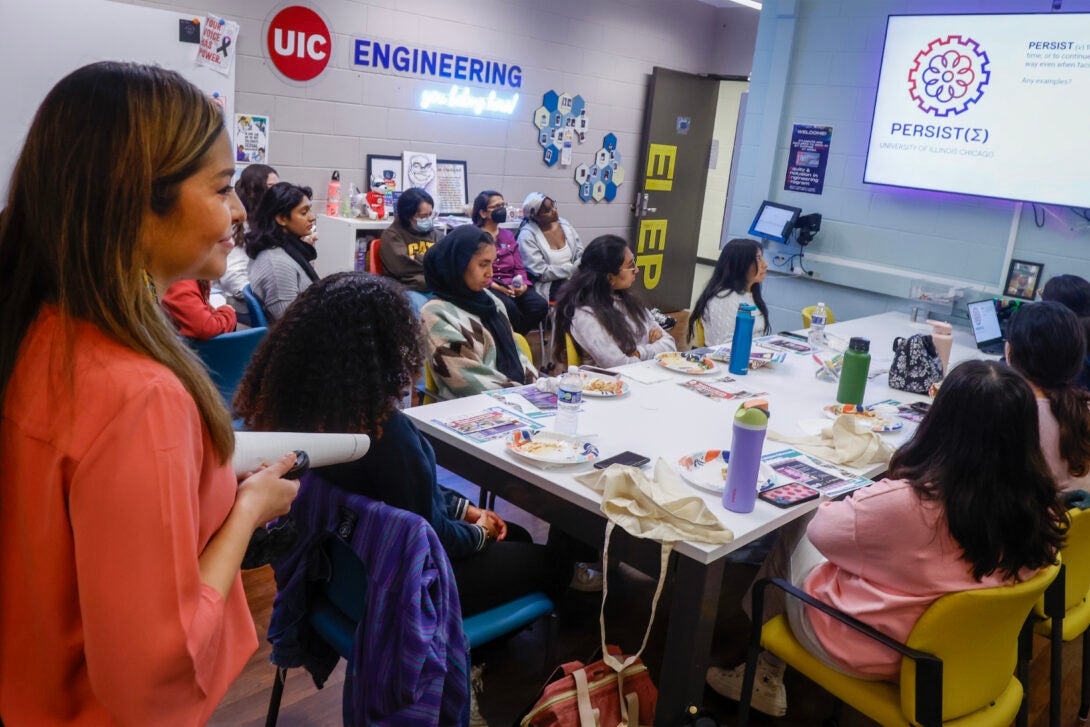 For some students walking into a classroom of their peers can be daunting and perhaps isolating while for others it's as mundane as walking through campus.
Equity and Inclusion in Engineering Program (EIEP) Director Elsa Soto said that for women and non-binary students of color in engineering walking into a classroom where no one else looks like them can be challenging and off-putting.
She hopes to bring women and non-binary students of color together to provide a space for these students to encourage and empower them through their unique challenges and struggles through PERSIST(Σ). The program is named Persist or Persisté, in Spanish and Portuguese, which acknowledges these groups of students on UIC's campus and encourages women and non-binary students of color to continue firmly in an opinion or a course of action despite difficulty, opposition, or failure as the definition suggests.
Soto hopes this program will act as a response to the deficit that exists for women of color and nonbinary people of color.
EIEP has teamed up with the Women in Engineering Programs (WIEP) and the Women's Learning Resource Center (WLRC) for PERSIST(Σ).
This program is important as it opens a safe space for students to realize that they shouldn't accept and tolerate harassment or discriminatory behavior from others especially when it comes from people who are superior to them or their classmates. This happens in the workforce as well so starting now allows for students to have a good quality of life once they graduate.
"We want students to know that they're not alone and what they're experiencing, unfortunately, others have experienced as well so we don't want these experiences to isolate them," Soto said. "We want them to ask someone for help or reach out to campus resources to handle those types of situations. We also want them to know that there's a community here that really cares about them, not just their academic success, but individually as women and non-binary people of color in the field. We want them to feel safe and to know there's a lot of support available."
Soto and WIEP Associate Director Sabrina Jones feel that many students of color may be dealing with these issues in silence because there isn't any support, so highlighting their concerns is important.
"These are conversations that I continue having with my peers and fellow classmates," Jones said. "We've noticed that oftentimes when we are treated unjustly, or we are discriminated against, we don't realize what has happened or we look at the mistreatment as normal. We don't realize that this shouldn't be happening and if we do it can be difficult to speak out."
"That is why these kinds of initiatives, like PERSIST(Σ), can really make a difference in showing women, non-binary, and other minority groups what we can do in situations like these and how to identify them. Engineering is already hard enough without having to add all these layers that make you feel like you don't belong."
Soto added that having these conversations now with students can help them for the rest of their lives.
"One of the reasons why you want to have these conversations now is because it's one thing to graduate women of color in engineering, but to retain them in the workforce is something separate," Soto said. "From some of the research that I've come across, the number of women who leave the field is astronomical and that's due to sexual harassment and discrimination. I believe that they entered these spaces without the tools or resources to address that type of discrimination. To some extent, we want to prepare our students because as much as I would like to believe that the workforce is a different environment and it's more inclusive, that's not true."
Coming from personal experience for both Soto and Jones, they want to assist students who face similar challenges to those they faced while attending college.
"I'm super excited to be part of this initiative," Jones said.
The program's logo was created by Gabriela Ramirez, a computer science student who is also a woman of color, and as the stereotype goes, flowers, sometimes like women, are perceived as weak and fragile when in reality, they are resilient and persist in some of the harshest environments. Ramirez felt that the flower in the gear represents how she feels sometimes as a woman in a technical field, such as engineering.
Modified on September 28, 2023