One-of-kind student awarded one-of-kind scholarship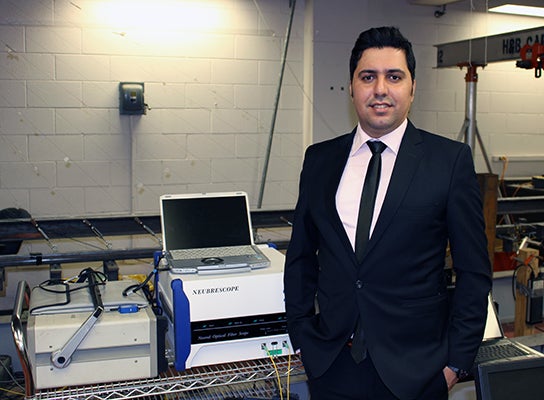 Only one student is awarded the 2018 SEI Graduate Student Scholarship from the American Society of Engineers Structural Engineering Institute – Illinois Section. And that student is UIC's Emad Norouzzadeh Tochaei, a Ph.D. candidate in the Department of Civil and Materials Engineering.
Tochaei, received the award from the national president of ASCE during the President-Elect/Student Scholarship Dinner on April 12 at Maggiano's in Chicago.
"I am sincerely honored to have been selected as the recipient of this prestigious award. This great achievement motivates me to work hard and maximize my potential to reach my goals," said Tochaei. "I have been lucky to have UIC Distinguished Professor Farhad Ansari as my supervisor in my doctoral research. He is an example of excellence as a researcher, mentor, instructor, and role model."
The scholarship is presented annually to inspire and encourage structural students whose academic and research performance display a prominent level of excellence and merit. The candidates are evaluated based on academic performance, work experience, involvement in community, extracurricular activities, education plans and career goals. The scholarship is provided to one undergraduate and one graduate student in the amount of $1,000 each.
Tochaei works under the direction of Farhad Ansari, Christopher B. and Susan S. Burke Professor of Civil Engineering, UIC Distinguished Professor and Associate Vice Chancellor for Research, in the Structural Dynamics and Monitoring Laboratory. Tochaei's research is focused on seismic behavior of cable-stayed bridges considering soil-structure interaction. He also is involved in several projects in order to develop structural health monitoring systems for bridges.
"Emad hit the ground running from the moment he arrived to my laboratory back in September 2016," said Ansari. "In his first semester, Emad served as a teaching assistant for the course, entitled as, Earthquake Resistant Design for Structural Steel Systems, which is an advanced graduate level course in our department. He also was able to resolve many of the machine/software interface issues we had faced in the previous experiments."
"Emad's background commensurate with my current work, which involves structural health monitoring and seismic performance of structures," he added. "He is working on evaluation of the performance of cable-stayed bridges considering soil-structure interaction. For this, he developed a comprehensive numerical and experimental model of a scaled cable-stayed bridge. The results of his research will help structural engineers to understand the performance of different structures and infrastructures better."
Tochaei has five publications at highly prestigious journals and international conferences. Additionally, he mentors several visiting scholars and helps them with research projects.
Learn more about the research in the Structural Health Monitoring lab at https://cme.uic.edu/cme-research/labs/.
Modified on August 15, 2019