PhD candidate wins ITE Graduate Student Scholarship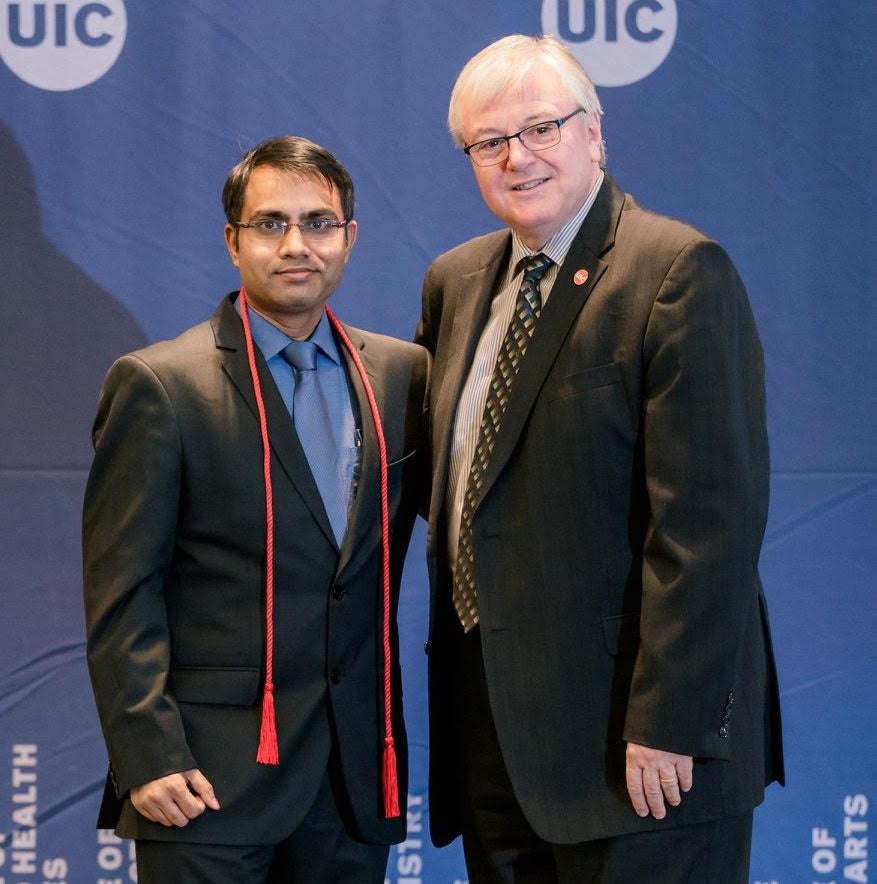 PhD candidate Sudheer Ballare has been selected as the recipient of the Graduate Student Scholarship this year from the Illinois Section of the Institute of Transportation Engineers (ITE). He was presented with an award and $2,000 during the ITE Illinois Section Annual Banquet on January 30, 2020, in Chicago.
His research focuses on solutions to reduce the negative impacts of urban freight delivery like congestion and emissions by making use of new mobility forms such as crowdsourced delivery and new vehicle technology. Similar to ride-sharing models, the research is geared toward replacing dedicated commercial vehicles in an urban environment with crowdsourced alternatives like pedestrians, bicyclists, taxis, and automobiles.
"Thanks to the guidance of my advisor Professor Jane Lin during my four years at UIC, I had clarity regarding my achievements and the direction that I wanted my life to take, and this was evident in my scholarship application," said Ballare. "I was able to highlight my academic and research achievements at UIC and state clearly my career objective of becoming a teaching faculty at a reputed university in the U.S. Furthermore, I believe that the scholarship committee was impressed with my role in organizing the Institute of Transportation Engineers Illinois Section career fair in November 2019 at UIC."
He also recognized the important and strong recommendations from Lin and CME Professor Bo Zou, which helped him secure the scholarship.
"Sudheer pays attention to details and is a very meticulous person. He is a great team player and a wonderful person to work with," said Lin, who also serves as the director of the SusTrans Lab at UIC. "He is a dependable and highly responsible person. One example was his outstanding service as a teaching assistant to my undergraduate introductory transportation engineering course. I completely relied on him, never had to worry about things not getting done, and he was well loved by the students."
According to Lin, Ballare left a well-paid job to pursue a PhD in transportation and shows his "passion for a meaningful career in transportation."
That dedication is evident as Ballare also won the Outstanding Paper Award for Best Presentation at the 11th International Conference on City Logistics in Dubrovnik, Croatia, in July 2019.
The IL-ITE scholarship is presented annually to honor and encourage transportation students whose academic achievements and research display a high level of excellence and distinction. The scholarship is provided to one undergraduate and one graduate student in the amount of $2,000 each. The candidates are evaluated on the basis of academic performance, education plans, career goals, activities, and record of leadership.
In 2018, UIC's Ramin Shabanpour was named a winner of the Graduate Student Scholarship. In 2017, UIC students made their debut by beating out students from universities throughout Illinois to capture three scholarships. Nabin Kafle took home the Graduate Scholarship Award, Nima Golshani received the Best Student Paper Award, and Yousef Dana nabbed the Undergraduate Scholarship Award.
UIC students, and faculty advisor Zou, relaunched the ITE-UIC chapter to make a long-term contribution to the transportation profession. Its main goal is to inform undergraduate students about transportation engineering profession and to encourage them to take an active role in promoting the ideals of the Institute of Transportation Engineers and serving to the community. The students organize several seminars and workshops, and invite industry representatives to share their work experiences and potential job opportunities.
Modified on August 23, 2021