PhD candidates display innovation at Christopher Burke Poster Competition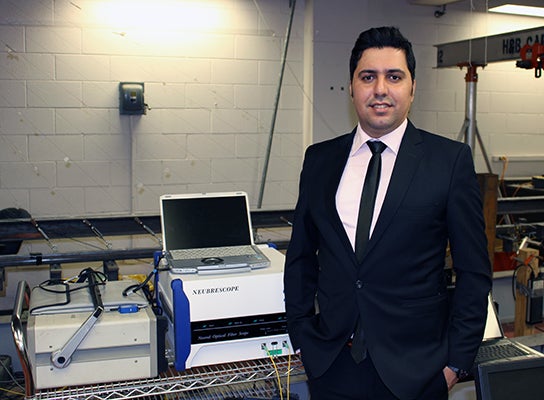 Three PhD candidates in the civil, materials, and environmental engineering (CME) department at UIC won the top spots during the annual 2020 Christopher Burke and Susan S. Burke Civil Engineering Poster Competition, which was presented online in May.
Emad Norouzzadeh Tochaei won first place and was awarded $1,500. His work presented an innovative box-spring system with interchangeable springs developed and fabricated to represent foundations for the bridge pylons. The results can be used to develop guidelines and recommendations for the design and modeling of bridges located in different soil conditions.
"As a researcher and PhD candidate, it is extremely rewarding to see that your research work has been recognized by experts in the field," he said. "Being awarded first place is a great motivation for moving forward."
Tochaei is working under the direction of Professor Farhad Ansari in the Structural Dynamics and Monitoring Lab, and he is slated to graduate at the end of the year.
Jyoti KC won second place and was awarded $1,000. The research proposes a biogeochemical cover consisting of a biochar-amended soil layer overlain by a steel slag layer as an alternative landfill cover to mitigate fugitive landfill emissions such as methane, carbon dioxide, and trace non-methane compounds such as hydrogen sulfide, which is highly toxic and odorous. It notes that municipal solid waste landfills are the source of major greenhouse gases, and no study to date has explored simultaneous mitigation of these gasses from landfills.
"I was really thrilled when I won second position in the poster competition. I felt more confident in my work and it boosted my morale during this pandemic," she said.
KC is working under the direction of Professor Krishna Reddy in the Geotechnical and Geoenvironmental Engineering Laboratory and the Sustainable Engineering Research Laboratory, and expects to graduate in 2021.
Gorkem Okudan won third place and was awarded $500.
His research focuses on a nondestructive evaluation method for detecting defects and their location in oil and gas pipes with a new, sophisticated pipe design incorporating the inspectability with nondestructive evaluation methods introduced by using phononic crystals, which are artificial materials composed of scatterers that are embedded on a base structure. With the implementation of phononic crystals, the propagating elastic waves within oil and gas pipes can be amplified by wave energy focusing.
"Dr. Ozevin has done an excellent job of helping me improve my own engineering judgment to a scholarly level, enhance my academic writing skills, and become a diligent independent researcher," he said.
Okudan is working under the direction of Associate Professor Didem Ozevin in the Nondestructive Evaluation Laboratory and is slated to graduate in 2022.
The judges were Assistant Professor Sara Kadkhodaei, Associate Professor Amid Khodadoust, Associate Professor Didem Ozevin, and Clinical Assistant Professor Joseph Schulenberg.
Learn more about the CME's programs at https://cme.uic.edu/graduate/doctoral-programs.
Modified on July 30, 2020