PhD student nabs first place at UIC GIS Day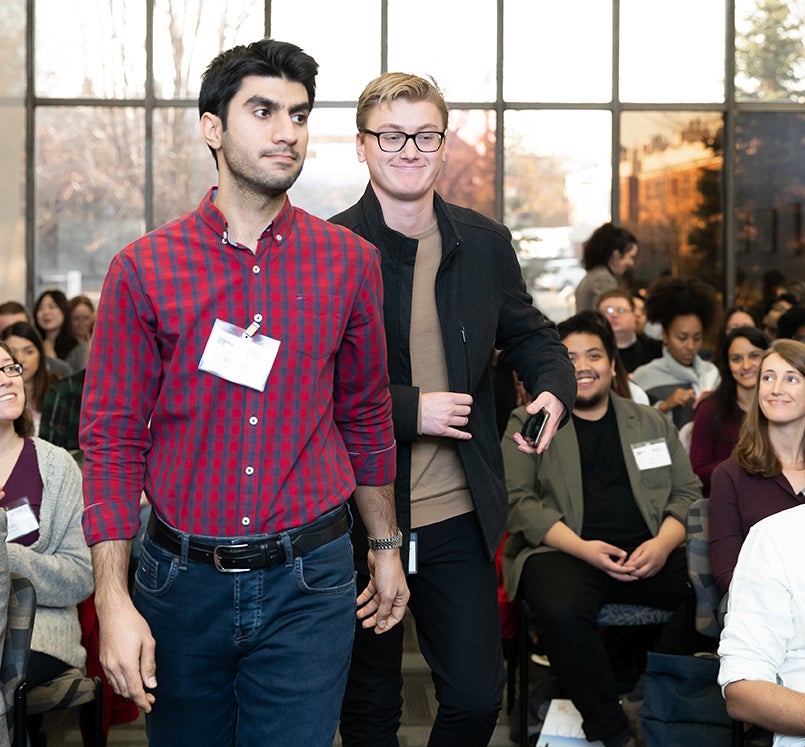 Abolfazl Seyrfar, a student in Civil and Materials Engineering (CME), won the first-place award during the UIC GIS Day 2019 at the College of Urban Planning. He beat out UIC students and researchers from outside of the university.
Geographic Information Systems (GIS) and visualization techniques allow people to organize, analyze, and communicate data. The GIS Day showcases a range of techniques exploring different aspects of community and global disparities. It also included a keynote speaker, talks, a panel, a poster session and competition, and a hands on-workshop.
Seyrfar won the poster competition for the work topic "Evaluating Transportation Equity in Chicago: Focusing on Transit-Dependent Population and Transit Deserts."
"Chicago is the third-most populous city in the United States with more than 2.7 million residents. It's public transit authority, the Chicago Transit Authority, operates the nation's second-largest public transportation system. However, are they providing equal public transportation services to all of its residents, particularly those who are transit-dependent? In this study we tried to answer the latter question," he said.
"Because, according to the Chicago Metropolitan Agency for Planning reports, there are many challenges related to the disparities and inequalities in the city of Chicago. So, our research attempts to locate 'transit desert hot-spots,' throughout the City of Chicago by identifying populations of transit-dependent residents. Moreover, the results of our study can help urban planners and policy makers to reduce transportation inequity in the region," he added.
The third-year Ph.D. candidate is working under the supervision of Hossein Ataei, CME faculty member and director of the Construction Engineering and Management Program.
"He always supports me to do interdisciplinary research and encourages me to broaden the horizons of my knowledge," said Seyfar.
"Abolfazl is a dedicated and hardworking student. He possesses high integrity, professionalism, and sense of responsibility," said Ataei. "He takes his work very seriously and applies his experience and profound knowledge of the Building Information Modeling software into the data analytics and GIS research that he is involved in."
"It is absolutely great and highly encouraging that Abolfazl – as a student in the College of Engineering – has won the first-place award in a UIC-wide competition that is sponsored by the UIC College of Urban Planning and Public Affairs. It demonstrates the interdisciplinary and impactful research on the energy use and sustainability that Abolfazl's doctoral research is focused on," he added.
Modified on January 07, 2020