PhD student wins new research award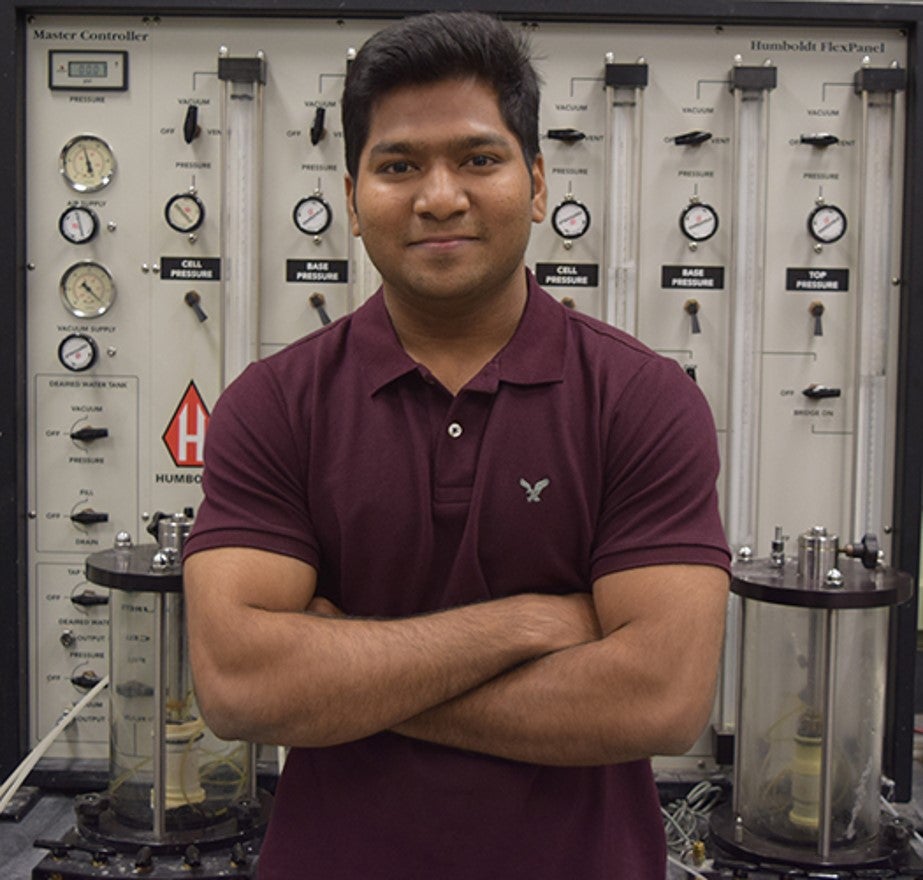 Girish Kumar, a PhD candidate in civil and materials engineering (CME), is one of only seven students in the college of engineering to win the inaugural Graduate Student Award for Exceptional Research Promise.
"It was delightful to hear that I was one of the recipients of the award especially when this award was first instituted by the UIC college of engineering starting this year," he said.
The new award recognizes top doctoral students for groundbreaking research, and it is given to students who are within a year of graduating and have demonstrated excellence in scholarship, academic publication, and other research-focused activities. This recognition goes hand-in-hand with a core part of UIC's research mission: training the next generation of research scientists.
Kumar, who is working under the direction of CME Professor Krishna Reddy, is working on research to develop a coupled thermo-hydro-bio-mechanical model that can realistically simulate the waste behavior in bioreactor landfills. The models can be used to develop guidelines and recommendations for practitioners to design and operate landfills safely and effectively.
"During the four years of my close association with him, I found him to be sincere, hardworking, collaborative, efficient, and intelligent. I have observed that he possesses a great motivation and drive to live up to the standards expected of a doctoral student and a true researcher. He also works as a research assistant in our lab and makes it a point to be involved in many other research projects with other students as well," said Reddy, who is the director of the Sustainable Engineering Research Laboratory and Geotechnical and Geoenvironmental Engineering Laboratory.
"The best part about working in Professor Reddy's lab is that it is a very collaborative atmosphere. You get to be involved in research projects of other students as well and that I think prepares us to become a well-informed professional and help us think of new avenues for research as we embark onto our future academic careers," said Kumar.
His research has been featured in several noteworthy journals, and he won numerous scholarships and awards from national and international organizations recognizing the relevance of his work. When he graduates, he is planning to continue his research in an educational setting.
"My long-term goals are to enter academia and conduct research related to geoenvironmental engineering that encompasses engineering problems related to both geotechnical and environmental issues. I intend to also find a balance and be actively engaged with the industry to identify the relevant and pressing problems and collectively develop a practical, feasible, and sustainable solutions to them," he said.
Modified on May 20, 2020