Seniors display innovation, creativity at design expo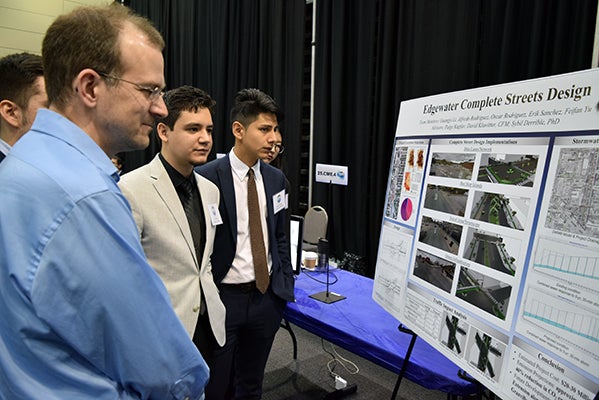 CME students showed their innovation and creativity during the 29th Annual UIC Engineering Senior Design Expo on Friday, April 27, at the UIC Forum.
The students were among more than 528 seniors from the College of Engineering (COE) presenting within 27 project categories. They produced eight Best in Category winners in the five categories in which they participated.
The team of Brian Han, Luis Felipe Orozco, Colin Matthew Ringel, and Benjamin L. Sommers were named the third runner up for the Innovation Prize from the UIC Office of Technology Management for their project Removal of Microplastic from Wastewater Effluent.
The team's research estimated that more than 5 trillion pieces of plastic exist in the world's oceans. A primary source of microplastic pollution in the bay is from eight wastewater treatment plants (WWTP) that discharge effluent polluted with microplastics. Passive cleanup on a massive scale such as the large v-shaped array floating barrier is being implemented to mitigate larger particles from migrating further into the Pacific Ocean's marine environment. Due to the abundance of microplastics characterized by study results, an active design to impede further infiltration of microplastics into the bay by filtering said particles at the source (WWTP) will be employed. By flocculating microplastics in WWTP's and then utilizing a rapid sand filter; the design of a tertiary treatment system to target microplastics in WWTP's will inhibit further microplastics from entering the bay; forestalling the problem at its source
Best in Category Winners
In the Building Services category, the winning team was Omar Ahmad Aboalnadie, Andrew K. Boysen, Ivan Moises Romero-Martinez, Maryam F. Yaso, and Yujia Zhang for their Shipping Container Structure project.
The City of Chicago lacks adequate affordable housing, an issue highlighted by the considerable inventory of vacant lots in Chicago's "Large Lots Program." This can be addressed through repurposing shipping containers as residential structures. The use of shipping containers can reduce both construction time and total cost, making it an ideal building material to apply to the affordable housing demand in Chicago.
In the Materials Engineering category, two teams were awarded the Best in Category title. Students Fathi Mazen Al Share, Sasha Arbuzava, Bogdan Dykyy, and Moody Adel Gad Metry won for their project Qualitative Analysis of Ultra-High Performance Concrete.
In this project, the team will create multiple mix design in order to achieve an Ultra-High-Performance Concrete (UHPC). The main advantage of UHPC is that it has seven times higher compressive strength comparting to conventional concrete. Also, UHPC does not develop critical cracks, which makes it suitable for applications such as nuclear power plants, slab connections in bridge joints, rehabilitation purposes, etc. The main goal of this project is to achieve a mix design that could be workable while maintaining a very high strength.
The co-winners were Adrian Brudz, Erik Steven Gutman, and Cade John Sundstedt for the project The Efficacy of Cement-Stabilized Full Depth Reclamation in Illinois.
Full Depth Reclamation (FDR) is an alternative to the traditional road construction method. It is the process of pulverizing an existing road, adding a stabilizing agent such as concrete or bituminous materials, then placing and compacting the mix of recycled roadway and stabilizer to form a new road base. This technique has proven to be superior to typical reconstruction in many case studies. FDR was found to be 14.2% cheaper and emitted significantly less carbon than the traditional model.
In the Structural Engineering category, Mahmoud M Ahmad, Abdullah Jabri, and Mateusz Truchan won for their Belmont Harbor Pedestrian Bridge design.
The location of Belmont Harbor on Lake Shore Drive and Belmont is an intriguing attraction because of the popular Lakefront trail. The pedestrian bridge would primarily be an addition to the ongoing Lakefront Trail Separation project, creating an alternate route for pedestrians to enjoy the scenery as they travel without feeling unsettled about oncoming cyclists.  A pedestrian bridge would provide a large reduction in travel time. A main design consideration is the clearance height for boats/yachts to access the Harbor. Designing a pedestrian bridge across Belmont Harbor is beneficial to the general public as a safer and quicker alternative route on the Lakefront trail that will provide Chicago with new aesthetic value.
In the Transportation Engineering category, two teams were named winners. The team of Guangyi Li, Alfredo Rodriguez, Oscar Rodriguez, Erik Sanchez, and Feifan Yu were winners for the Edgewater Complete Streets Design.
Complete Streets is a design philosophy that aims to safely and efficiently provide transportation access, integration, and support for users of all modes and is a promising solution for addressing the issues and demands of a complex and multimodal urban transportation system. Additionally, Complete Streets projects can produce other stakeholder benefits such as encouraging more users to choose more active forms of transport, this can also lead to economic benefits in the project area. The main objectives of this project are to create an integrated street transportation system in the Chicago metropolitan area which will increase accessibility and support all types of users and modes of transportation, protect the most vulnerable users such as pedestrians and cyclists, and incorporate sustainable best management practices.
The team of Diego G. Cortez, Qiming Fang, Luis E Mejia, Raashida Muhammad, and Piotr Pezdek won for their Traffic Analysis and Design for I-355 and Bruce Road.
The need for reliable roads and highways providing additional access for the growing communities along the southerly portion of I-355, is required. When researching the free flow travel time (FFTT) of vehicles on I-355, it was determined that the amount of vehicles is increasing each year.  Three alternative ramp designs were created for the interchange. The proposed ramps will bring additional access and will improve the mobility, reliability and travel times to better adapt to an increasing number of vehicles and goods provided by the growing communities.
In the Water Resources Engineering category, two teams were awarded. The group of Margaret Grace Allen, Laurel K. Haynes, and Jessica M. Taskila won for Assessment and Design of Sidestream Treatment for Chicago Area Waterways.
Collateral Channel in Little Village was selected as the project site due to high contaminant concentrations and consistently low dissolved oxygen within the Channel. Building on encouraging results of in-situ and sidestream treatments of polluted rivers, various treatment practices were evaluated and incorporated into the design. Aeration was selected due to its relatively low costs and numerous demonstrated benefits, including improved dissolved oxygen concentrations, oxidation of certain metals and volatile organic compounds, and removal of dissolved gases. The design includes plans for a public park and gathering space to provide meaningful improvements to the quality of life of local residents and wildlife.
The team of Carlos E. Cerezo-Rojas, Anabelle Lotao Huff, Nadin S. Jazrawi, Fabian Rangel, and Jianfei Tian also won for their project titled Sustainable Potable Water Production at a Household or Local Community Level in Developing or Underdeveloped Countries.
The main purpose of this project is to provide water to underdeveloped countries that are experiencing natural disasters and water crisis. Boiling and condensation, on a very small scale, can be made into an easy and affordable way to produce potable water from different sources such as muddy water and rivers. With the research that has been conducted, the process produces drinkable water using the assembled boiling and condensation system. The evaluation will include measuring the efficiency and ability to sustain energy during the purification process. The system is designed for continuous water purification, providing clean potable water. The system is self-sustainable and could be utilized to fill many containers with potable water each day. This project will improve the quality of life, provide freshwater, and minimize health issues resulting from bad quality water.
Modified on August 15, 2019