Setting the standard for biomedical implants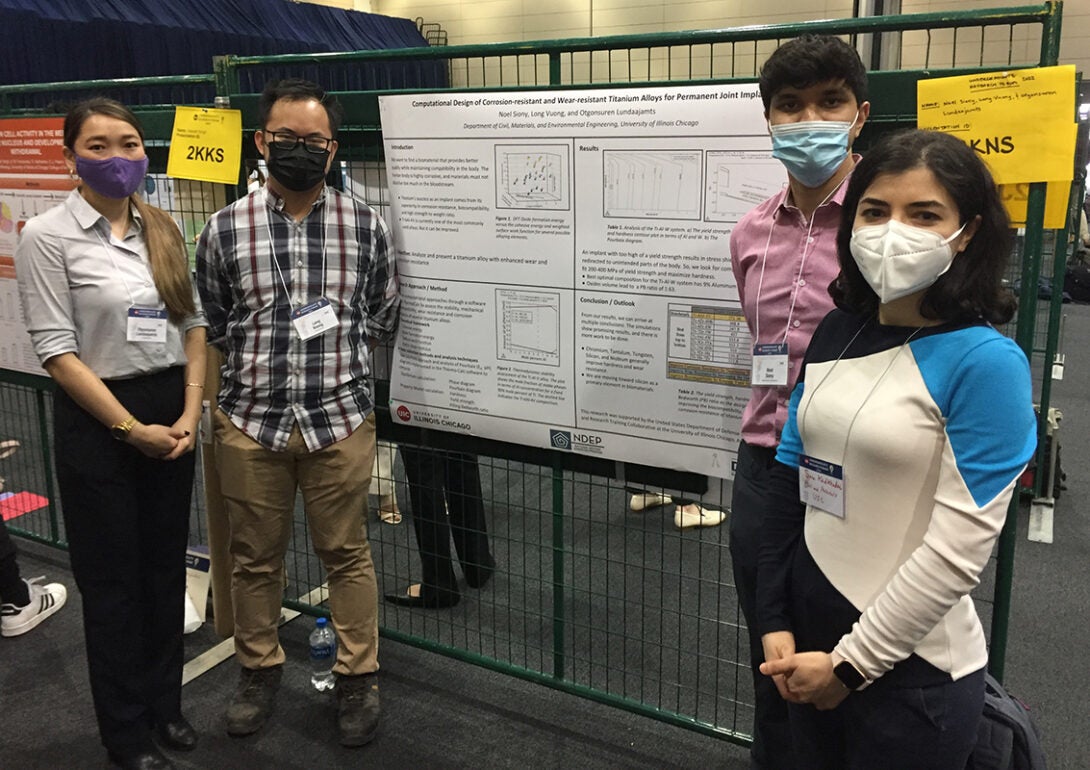 Titanium alloys are often used for orthopedic implants, but they tend to wear out within several years, and failure to replace them can result in the destruction of organic tissue and the release of potentially toxic elements in patients
To increase the longevity of these titanium implants, undergraduate students Noel Siony, Long Vuong, and Otgonsuren Lundaajamts are conducting research under the direction of Sara Kadkhodaei in the Computational Materials Research Lab in civil, materials, and environmental engineering at UIC.
"Our goal is to use computational simulations to either improve titanium alloys or find a new material to become the standard for biomedical implants," Siony said. "We hope that our experimental method will prove to be a sophisticated, yet novel way for others to characterize materials."
Their findings were recently published in the journal Materials Today Communications under the title "Computational design of corrosion-resistant and wear-resistant titanium alloys for orthopedic implants."
The students are using ThermoCalc software to focus on the thorough computational research of biomaterials, which has the potential to uncover complications in the original design before the long and grueling testing process.
The students can model the physical properties of materials, as well as how they behave in the body, which can reveal if a material is unsuitable for biomedical applications.
"We demonstrate this by measuring the hardness and corrosion resistance of different materials and ranking them based on their quality and safety," Siony said. "Computational research like ours may provide an avenue to faster research by guiding future experimental studies of biomaterials."
As undergraduates, the opportunity to perform research and publish a paper is a tremendous opportunity.
"It certainly helps my accomplishments as well as my job prospects and educational outlook in life," Siony said. "Perhaps even more important than that, publishing an article caused me to realize that research is not as intimidating as I initially thought it was when I first started. While it certainly takes hard work, it can be managed and carried to completion."
Modified on January 09, 2023