Student Spotlight: Sights set on water resources/environmental engineering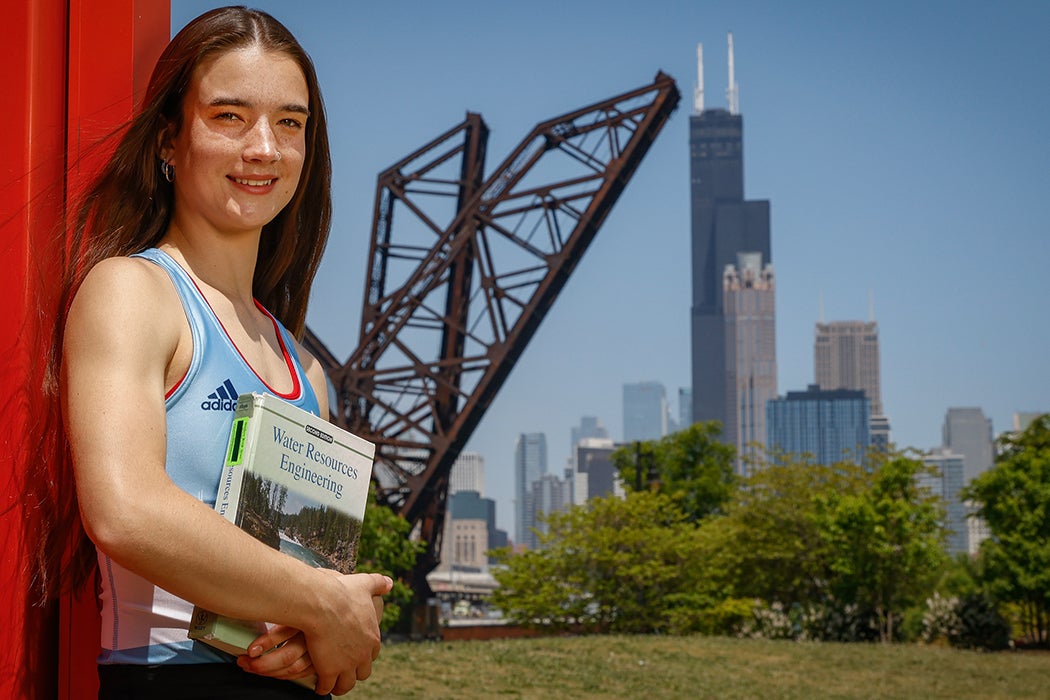 When Haley Dahl isn't competing at the NCAA Division I level for track and field at UIC, she has her sights set on becoming a water resources/environmental engineer.
In addition to her studies as a civil, materials, and environmental engineering student, Dahl is getting closer to her goal by gaining real-world experience as a water resources engineering intern at Stantec's Chicago Water Group.
"I've been there more than two years and I'm learning the ropes in the consulting world at a large global firm. I'm really excited to work for them. They're big on sustainability," said Dahl, who is slated to begin working full-time for Stantec as a civil designer starting in June 2024.
In addition to her studies and athletics, Dahl created an independent research podcast called Green Exploration: Rockford, which she launched in 2020, and subsequently received the Chancellor's Undergraduate Research Award from UIC in 2021 and 2022. The podcast raises awareness of environmental issues and promotes sustainability within Rockford, Illinois, while highlighting how inclusive, green infrastructure, or other nature-based practices, can offer viable and equitable solutions.
"I dive deeper inquiring about environmental justice concerns and have been interviewing environmental and municipal leaders to have conversations people don't necessarily think about on a daily basis and try to get it out into the community," Dahl said.
In 2022, she partnered with the Region 1 Planning Council to present Resilient Rockford Region (R3), which is a series of live community chats and expert discussions conducted via Zoom. R3 provides free informational sessions on a wide range of sustainability topics in the region to ensure a sustainable and equitable future for all residents. The monthly discussions occurred from September 2022 to September 2023.
As Dahl prepares to graduate, she is grateful to be part of the UIC community where she has thrived and found the support she needs to be successful in the working world.
"I enjoy UIC's programs and will always be a proponent for UIC because I've just really enjoyed my time here," she said.
"I feel very prepared when I go into the office for work. UIC definitely prepared me in the sense of knowing the language going in, because there's a lot of niche language in the water world, and I was exposed to pretty much all the programs that we use, too. I didn't feel like I was starting from scratch when I was learning on the job."