Sybil Derrible vows to make the world better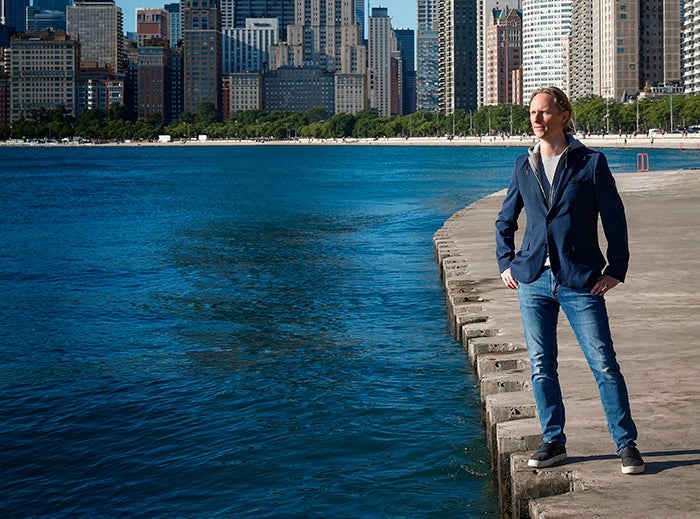 Associate Professor Sybil Derrible, of civil, materials, and environmental engineering at UIC, has dedicated his career to making the world more sustainable through his work. Recently, he took another step toward making his contributions more valuable.
"I am taking my dedication to making the world more sustainable and more livable to a higher level by becoming a lead author on the seventh edition of the United Nations Environment Programme's Global Environmental Outlook (GEO)," he said.
According to the UN, GEO-7 is the most ambitious scientific assessment on the state and trends of the global environment and outlooks for the future. It will be focused on solutions to tackle climate change and biodiversity loss, as well as pollution, and waste crises, together with land degradation. It will identify transformational pathways for food and energy systems, and economic models.
Derrible, who is the director of the Complex and Sustainable Urban Networks (CSUN) Laboratory at UIC, will be part of a team of authors developing an assessment report of novel research that is already available. They will be "synthesizing" the information, which means they will be looking at the good, the bad, and everything in-between with the goal of identifying pathways to solutions to preserve the environment.
"I want to be part of this to help set the world on the right track," he said. "We need change right now. GEO-7 will be a document that every nation in the United Nations is going to see. Personally, I'm looking at energy and energy policy to inspire nations to do something to reduce their energy footprint, carbon emissions, and more."
In addition to having a positive impact on the world, Derrible sees this opportunity as something that can make a significant impression on UIC students.
"I'm hoping to learn more and look at cities in a different way, get a more global perspective, get a better idea of the problems, and see them from a different angle," he said. "All this work will impact students as well and help steer their research direction."
"Everything we do at UIC has to contribute to making the world more sustainable. This is one of the best things we can do," he added.
The volunteer position is a three-year commitment, and the final report is slated to come out in 2026.
Modified on July 06, 2023