Alumni honored for their accomplishments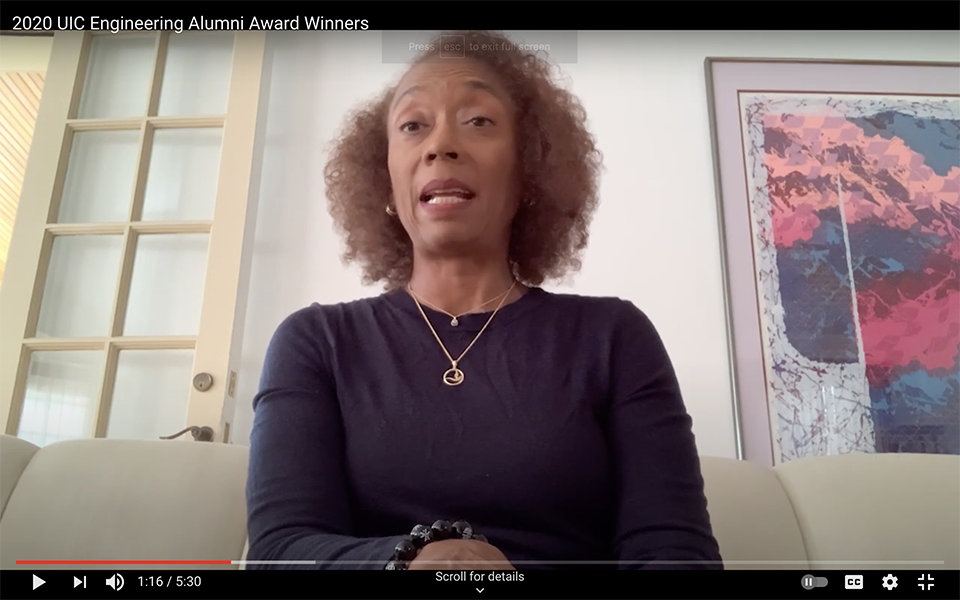 Every year, the Engineering Alumni Awards ceremony recognizes and celebrates the accomplishments of UIC College of Engineering alumni who have used their education to establish rewarding, productive, and high-impact careers.
Among the 2020 honorees were CME alumni Zeynab Abbasi, Debra Evans, and Amy Landis, who were awarded for their achievements, leadership, and service.
While the event was not held in person this year, the honorees submitted videos, and talked about what UIC Engineering and their award mean to them and share their advice for students. The video montage can be seen below or at ‪https://youtu.be/Oskk1icFSvE.
Meet the CME honorees:
Zeynab Abbasi
Abbasi was honored with the Outstanding Young Achievement Award. She is a project director with Thornton Tomasetti's Forensics practice. Based in the New York City office, her work spans from hands-on field investigations to complex numerical simulations. She also is involved in several of the firm's research and development initiatives. Abbasi, who has a background in developing nondestructive test methods for materials and structures, is focused on ultrasonic testing of steel structures.
Debra Evans
Debra Evans was presented with the Distinguished Service Award. She is a global program manager for the Rare Metabolic Disease franchise in the chief medical office of Takeda Pharmaceuticals, Inc. She is responsible for financial execution of the global medical strategic plan and for overseeing the progress of specific projects of the business.
Prior to joining Takeda, she was employed by Pfizer, Inc., Baxter Healthcare, Motorola, Hughes Aircraft, and Northrop-Grumman Corporation. For Pfizer, she managed new product development programs and program management of complex programs from concept through launch for the Pfizer/Hospira Consumables business. For Baxter Healthcare, she was responsible for new product development programs for the Global Infusion Systems and Nanoedge businesses. For Motorola's automotive and industrial electronics and telematic communication groups, she managed several automotive electronic and telematic programs. She managed several defense radar and countermeasure programs for Hughes in California and was the director of engineering for Hughes South Carolina. For Northrop-Grumman, she was responsible for mechanical engineering research for several electronic countermeasure programs.
Evans received her BS degree in material science and engineering from Northwestern University, an MS degree in materials engineering from the University of Illinois Chicago, and a certificate in program management from the George Washington University. Her civic activity includes the University of Illinois Chicago Alumni Association, where she serves on the outreach committee. For the University of Illinois Chicago's College of Engineering, she serves on the Engineering Alumni Association and the Civil Engineering Professional Advisory Council. She also has served on the University of Illinois Alumni Association board and several other advisory boards associated with the University of Illinois.
At Northwestern University, she is active with the Northwestern University Black Alumni Association, NU Alumni Association, and the McCormick School Advisory Board. She is a fellow and life member of the Society of Women Engineers, a senior member of the American Association of Mechanical Engineers, and a member of the Program Management Institute.
She also is active in her community serving on the executive board of the NAACP North Shore, the Women's Club of Evanston community outreach and contributions committees, and the Evanston UNITY Scholarship committee. She is active in her sorority, Zeta Phi Beta Sorority, Inc., serving at the local, state, and regional levels.
She has received the following awards:
University of Illinois Chicago 2020 College of Engineering Alumni Distinguished Service Award
Zeta Phi Beta Sorority, Inc. Zeta 100 Award
University of Illinois Chicago Torchbearer Award
University of Illinois Alumni Association Award
University of Illinois Constituent Leadership Award
University of Illinois Loyalty Award
Society of Women Engineers Fellow
Women of Color in Technology Award
Institute of the Advancement of Engineering Fellow
YMCA of Los Angeles Women Achievers in Industry Award
YMCA of Metropolitan Chicago Black and Hispanic Achievers in Industry Award
Matt Huffman
Matt Huffman was presented with the Outstanding Achievement Award. He is a senior project manager at Christopher B. Burke Engineering, Ltd., a full-service civil engineering consulting firm in Rosemont, Illinois. His focus is in transportation engineering, specifically in larger federally funded public projects during the preliminary engineering stage of project development. He leads a team of engineers and technical specialists to take a project from an initial idea through the heavily regulated federal project development process culminating in a preferred improvement design. He is responsible for all aspects of the project development from the initiation of the project, identification of the purpose and need, development and evaluation of alternatives, determination of the preferred improvement, preparation of all environmental and engineering reports, and public engagement.
Huffman is an active leader within the local civil engineering industry, which first started at UIC, and is serving a two-year term as the secretary for the Illinois section of American Society of Civil Engineers (ASCE), comprised of 2,600 members in the civil engineering industry within Northern Illinois. Huffman previously was the UIC ASCE student chapter president (2005), chair of the Illinois Section Transportation & Development Institute (2012), and served as membership chair of the ASCE Illinois Section (2008-2020). In 2015, Huffman was recognized as the ASCE Illinois section young civil engineer of the year. He also has served on the Village of La Grange Park – Traffic, Safety & Engineering Committee since 2016. Prior to moving to La Grange Park in 2015, he served on his 326-unit Condominium Association Board of Directors and held the position of president for several years. Under his leadership, the condominium underwent a $3.8 million dollar capital improvement roof and façade project to address water infiltration into approximately 25 percent of the units.
In 2008, Huffman was invited to join the UIC Civil Engineering Professional Advisory Council (CEPAC) for the civil, materials, and environmental engineering department, which he now chairs. The CEPAC is composed of more than 20 professionals from the public and private sectors to provide an industry perspective along with advising on curriculum, assessing graduating senior students, and strengthening industry connections with CME. Over the last 10 years, Huffman has also enjoyed serving as an outside consultant to CME 497 senior design students for their Expo senior design projects. He enjoys his time mentoring aspiring engineers at his high school alma mater, Maine South in Park Ridge, and his wife's employer, Alan B. Shepard High School in Palos Heights.
Huffman graduated with honors from the UIC College of Engineering in 2006 with a BS in civil engineering and received his MS in project management from Northwestern University in 2010. During his time at UIC, he was an athlete on the men's swimming and diving team. He lives in La Grange Park with his very understanding wife Dana, also a UIC alumnus, daughter Evelyn, and son Owen. Huffman has a great sense of pride for the institution that has given him so much and enjoys every opportunity he has to contribute back to UIC and its students.
Amy Landis
Landis was honored with the Outstanding Achievement Award. She joined the Colorado School of Mines in August 2017 as the first Presidential Faculty Fellow for access, attainment, and diversity. Previously, she was a full professor at Clemson University from 2015 to 2017 as the Thomas F. Hash '69 endowed chair in sustainable development. There, she served as director for Clemson's Institute for Sustainability, which brought together interdisciplinary research, education, and business for sustainability. Landis spent her years as associate professor at Arizona State University's School of Sustainable Engineering in the Built Environment from 2012 to 2015. During her tenure at ASU, she served as director of research for the Center for Earth Systems Engineering and Management, senior sustainability scientist for the Global Institute of Sustainability, Lincoln Fellow of sustainable development and ethics for the Lincoln Center for Applied Ethics, and Tooker Professor of STEM education for the Ira A. Fulton Schools of Engineering. Landis began her career as an assistant professor at the University of Pittsburgh after having obtained her PhD in 2007 from the University of Illinois Chicago under the supervision of Dr. Thomas L. Theis.
Landis has developed a research program in sustainable engineering of bioproducts. Her research ranges from design of systems based on industrial ecology and byproduct synergies, life cycle and sustainability assessments of biopolymers and biofuels, and design and analysis of sustainable solutions for healthcare. Since 2007, she has led 10 federal research projects and collaborated on many more, totaling more than $30 million in collaborative research. Landis continues to grow her research activities and collaborations to include multidisciplinary approaches to sustainable systems. She is dedicated to sustainability engineering education, outreach, and diversity in STEM. She has established networking and mentorship programs at three different universities to advance diversity and STEM. She also works with local high schools, after-school programs, local nonprofit organizations, extensions, and museums to integrate sustainability and engineering into K-12 and undergraduate curricula.
Dao Nguyen
Dao Nguyen received the Outstanding Achievement Award. Nguyen earned his BS degree in civil engineering from the University of Illinois Chicago in 2011. Upon graduating, he used his engineering knowledge to open his first restaurant, Lotus Banh Mi, in 2012 — Lotus was his late mother's favorite flower. Lotus Banh Mi has expanded to five locations focused primarily around downtown Chicago with the fifth in Northbrook. In addition to continuing the expansion into suburban towns, Nguyen's company, DK Lotus Inc., is preparing to introduce meal kits at local grocery stores to capture the cook-from-home market. He also uses much of his engineering knowledge to navigate his rapidly growing real estate portfolio, which includes renovation, re-modeling, and operating multiple rental properties.
Modified on February 08, 2021