Two new donors bring more scholarship opportunities to students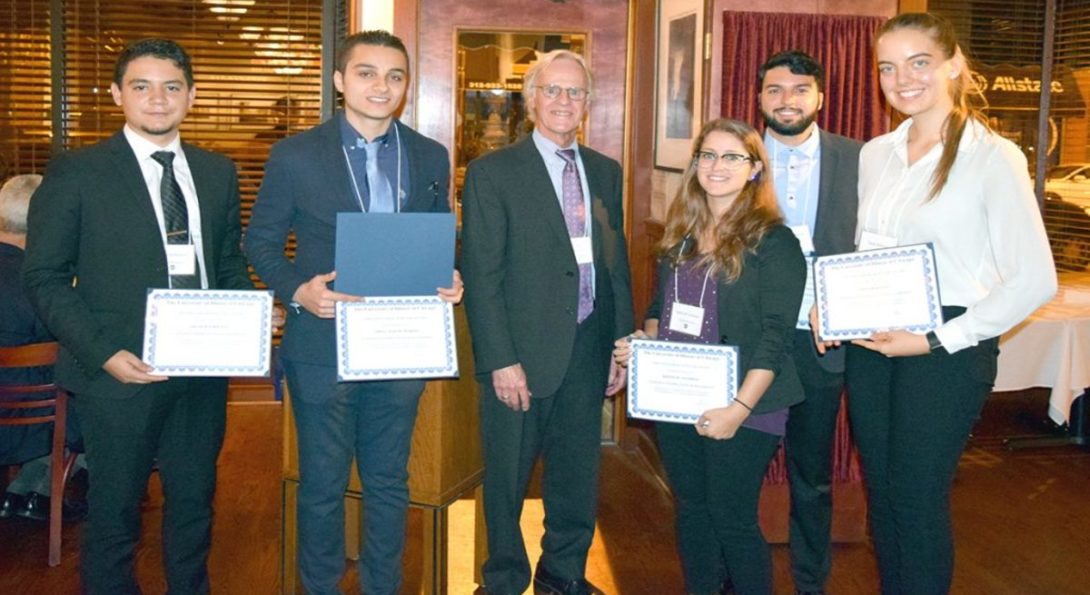 Scholarship donors and their recipients came together on Nov. 1, 2018, for the Department of Civil and Materials Engineering's annual Civil Engineering Professional Advisory Council (CEPAC) Scholarship Reception and Awards Dinner.
The event recognizes the generosity of scholarship donors and partners who give annually to students to help them pursue their academic and professional dreams. CME awarded dozens of scholarships to students and supports UIC in its mission to provide access to excellence and success for our students. Board members, many of whom are UIC alumnus, added personal stories to the ceremony as they detailed the scholarship requirements and the interests and accomplishments of the donors.
Additionally, two new scholarships were awarded from CEPAC members. The "Infrastructure Engineering Scholarship" was established by CEPAC member Michael Sutton and awarded to students in civil engineering who are members of the National Society of Black Engineers.
The "L.J. Halbert Scholarship" was established by UIC College of Engineering alumna and CEPAC member Debra Evans to honor her late father. This scholarship is awarded to students in materials or civil engineering who are members of National Society of Black Engineers, with a preference for members of the Society of Women Engineers.
"I donated to the Civil Engineering Department because there is a great need for scholarships for students in the Chicagoland area," said Evans. "My father was a contractor in the city, and he was very much involved in education. And it's appropriate to put a scholarship in his name. We grew up on the West Side of Chicago. We were educated on the West Side of Chicago. I think my father would get a great kick out of the fact that we endowed the scholarship in his name on his side of town."
All of the scholarships were appreciated as students accepted them with wide smiles and a sense gratitude.
"I want to give a heartfelt thanks to the CEPAC members and all of the scholarship donors and those who give some of their hard-earned money and talents to us," said scholarship recipient Luke Zanoni. "A lot of us are paying for part or all of our way through school. Last semester, I remember looking at my finances and 'I don't know if I'm going to be able to graduate.' But I know I have to finish this degree.… A heartfelt thanks from all of us, to all of you who have given money for these scholarships. They are not lost on us, and hopefully we can give back to some of your companies and the community at large."
Apart from receiving scholarships, the gathering provided students with a chance to meet the donor or a corporate representative of their scholarship. It also provided them with the opportunity to network.
More pictures of the scholarship winners can be viewed at CEPAC Scholarships.
Scholarship Donors and Recipients
ACCESS ILLINOIS JOHN BURNETT SCHOLARSHIP
Muntather H. Merei, Hussein A. Mohd
ALFRED BENESCH SCHOLARSHIP 
Luke E. Zanoni
DAVID E. BOYCE GRADUATE SCHOLARSHIP
Dongwoo Lee, Ali Shamshiripour
PROFESSOR ROBERT H. BRYANT SCHOLARSHIP
Luke E. Zanoni
CHRISTOPHER B. AND SUSAN S. BURKE GRADUATE STUDENT AWARD
Mahsa Izadmehr, Girish Kumar, Fatemeh Nazari
ROSEMARY BURKE SCHOLARSHIP
Meia J. Coutre, Crystal Ramos
CEPAC SCHOLARSHIP
Tanja Rakovic
CLARK DIETZ SCHOLARSHIP
Oscar Rodriguez
PROFESSOR EDWARD H. COE SCHOLARSHIP
Mirit Girgis
DEAN'S MERIT SCHOLARSHIP 
Kristine M. Hernandez, Stephanie Padilla
L.J. HALBERT SCHOLARSHIP
Herbert M. Nuwagaba
COLONEL WILLIAM J. HAWES SCHOLARSHIP
CDT Shannon Coppula
NANCY ANDERSON HOLMES SCHOLARSHIP
Oscar Rodriguez
ILLINOIS ASPHALT PAVEMENT ASSOCIATION SCHOLARSHIP
Mohamadhossein Noruzoliaee
ILLINOIS ROAD & TRANSPORTATION BUILDERS ASSOCIATION (IRTBA) SCHOLARSHIP
Luke E. Zanoni
INFRASTRUCTURE ENGINEERING SCHOLARSHIP
Herbert M. Nuwagaba
KASI FOUNDATION SCHOLARSHIP
Herbert M. Nuwagaba
SWE KNOWLES ELECTRONICS SCHOLARSHIP
Kristine M. Hernandez, Crystal Ramos, Lauryn C. Stewart
PROFESSOR DUSAN KRAJCINOVIC SCHOLARSHIP
Shifra M. Feldman
OLIVE CHACEY KUEHN AND ALFRED L. KUEHN SCHOLARSHIP
Marvin C. Ambrocio, Xavier Figueroa, Jesus Quintero, Abdul Aziz M. Shaban, Luke E. Zanoni
WILFRED F. AND RUTH DAVISON LANGELIER
Amanda M. Carlson, Christopher W. Heipp, Qudus A. Lawal, Karim W. Mostafa
KENNETH E. NELSON SCHOLARSHIP
Tanja Rakovic
SAMARTANO & COMPANY/HENRY MAREK SCHOLARSHIP 
Oscar Rodriguez
SARGENT AND LUNDY SCHOLARSHIP
Mark A. Dore, Erick Estrada, Thomas C. Hysick, Juan Jaimes, Maggie E. Kochman, Szymon Popowski, Tanja Rakovic, Oscar Rodriguez, Alvaro Sahagun, Abdul Aziz M. Shaban, Sebastian Szulakiewicz, Luke E. Zanoni
THOMAS AND ROMANA TING SCHOLARSHIP
Abdul Aziz M. Shaban
TURNER CONSTRUCTION SCHOLARSHIP
Shifra M. Feldman, Donald R. Franch, Tanja Rakovic, Oscar Rodriguez, Abdul Aziz M. Shaban
T.Y. LIN ENGINEERING MERIT SCHOLARSHIP
Donald R. Franch
ROSE L. VEDRAL SCHOLARSHIP
Mirit Girgis
Modified on August 15, 2019