UIC team wins first place at Great Lakes Student Conference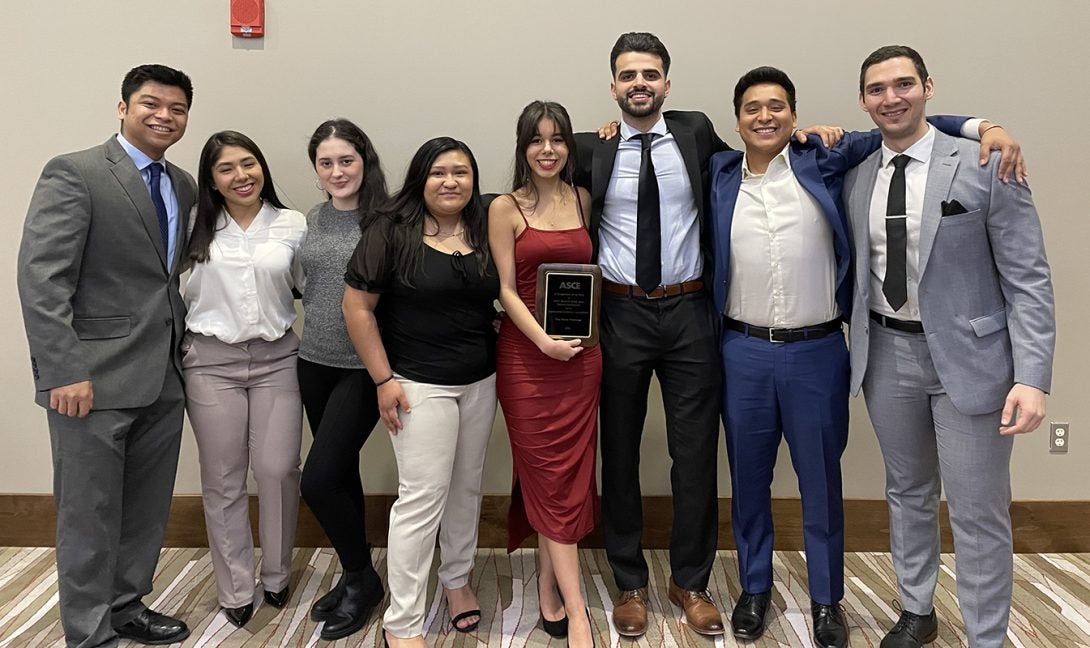 UIC's student chapter of ASCE won first place win in the Sustainable Solutions competition at the 2022 Western Great Lakes Student Conference, which took place at the University of Illinois Urbana-Champaign. The team is slated to compete at the national finals on June 3 at Louisiana Tech University.
The competition challenged students to develop a strong understanding of sustainability and learn to incorporate creative solutions into everyday problems that engineers face. The rules are intended to simulate a request for proposal that responds to a real-world challenge. For the 2022 conference, students were challenged to design a tiny house for a community of tiny homes to address homelessness.
UIC's Sustainable Solutions team is made up of team captain Alondra Delourdes Santos, Aileen Ramirez, Amir Louaibi, Conner Ray, Hung Le, Karen Portillo, Ricardo Rivera, Vaughn Francisco, Crystal Ramos, all of civil, materials, and environmental engineering, and Georgi Nikolov, of computer science.
The team designed 10 tiny homes on 1.07 acres of land for the homeless community out of recycled 10-by-40 feet storage containers. They also added a community center, rain garden, compost site, private road, picnic area, parking lot, bioswale, rainwater collection and filtration barrels, and many other sustainable aspects to their technical proposal. The judges were impressed with the team's proposal and suggested they submit it to the city
"The team worked very hard this year to incorporate every member's ideas into our design proposal," Santos said. "It was very gratifying to see that all our hard work paid off after two semesters of countless meetings and revisions to our project. We are very excited to move forward in the National ASCE conference in June and are thankful for this wonderful opportunity."
In addition to the Sustainable Solutions win, UIC placed second in the Surveying competition, fourth in the Construction Institute Student Symposium competition, and seventh in the Concrete Canoe event.
"All the teams and their members did a phenomenal job all year long," said Qais Abdeh, ASCE UIC outreach chair and a civil, materials, and environmental engineering student. "It has been a long and tough two years. It felt incredible to get back into a competitive mindset and compete against other schools, and it felt even better coming home with some awards in the bag."
The annual conference included 19 universities from the Midwest, southern Canada, and Egypt.
UIC is slated to host the conference in 2024, and students interested in participating can find more information at https://asceuic.weebly.com.
Modified on April 29, 2022