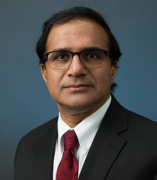 Krishna R. Reddy, PhD
Professor, University Scholar & Distinguished Researcher
Director, Geotechnical & Geoenvironmental Engineering Laboratory & Sustainable Engineering Research Laboratory
Civil, Materials, and Environmental Engineering
Contact
Building & Room:
2091 ERF
Address:
842 West Taylor Street, MC 246, Chicago, IL 60607
Office Phone:
Email:
CV Link:
Related Sites:
About
Research Interests
Geoenvironmental Engineering: Environmental remediation of soils, sediments, stormwater, and groundwater; Solid and hazardous waste management and landfill engineering; Engineering applications of waste/recycled materials
Sustainable & Resilient Engineering: Life cycle assessment, sustainability analytics, resiliency framework, and sustainable & resilient design, with special focus on sustainable and resilient: (a) civil infrastructure materials & systems, and (b) environmental pollution control and remediation technologies
Geotechnical Engineering: Soil mechanics and testing, site characterization, foundations, earth-retaining and earth structures, ground improvement, geomechanics, geotechnical earthquake engineering, and sustainable and resilient geo-systems
For more details, see Geotechnical and Geoenvironmental Engineering Laboratory and Sustainable Engineering Research Laboratory
Notable Honors
2023, G.A. Leonards Lecture, Purdue Geotechnical Society, Purdue University
2022, Fulbright Academic & Professional Excellence Award (Teaching & Research), U.S. Department of State
2018, Wesley W. Horner Award, Environmental & Water Resources Institute (EWRI), American Society of Civil Engineers (ASCE)
2011, Hogentogler Award, American Society of Testing and Materials (ASTM)
2007, University Scholar Award, University of Illinois
2007, Award for Excellence in Teaching, University of Illinois at Chicago
Education
Ph.D., Civil Engineering (1990), GPA: 4.0/4.0
Illinois Institute of Technology
M.S., Civil Engineering (1985), Gold Medalist
Indian Institute of Technology-Roorkee, India
B.S., Civil Engineering (1983), Gold Medalist
Osmania University, Hyderabad, India
Licensures and Certifications
Registered Professional Engineer (PE), State of Illinois #062-049625
EnvisionTM Sustainability Professional (ENV SP)
Professional Memberships
Fellow, American Society of Civil Engineers (FASCE)
Diplomate, Geotechnical Engineering (DGE), Academy of Geo-Professionals, American Society of Civil Engineers
Board Certified Environmental Engineer (BCEE), American Academy of Environmental Engineers & Scientists
Selected Presentations
"Sustainable and Resilient Geo-Engineering: Drivers, Frameworks, and Case Studies." Keynote Presentation, 4th International Symposium of Engineering Applications on Civil Engineering and Earth Sciences 2023 (IEACES2023), Turkey, June 2, 2023
"Sustainability and Resiliency-Based Innovation: Research and Practices in Geoenvironmental Engineering." 19th Gerald A. Leonards Lecture, Purdue Geotechnical Society (PGS), Lyles School of Civil Engineering, Purdue University, West Lafayette, IN, May 5, 2023 [YouTube Video]
"Climate Adaptive (Resilient) Site Remediation: Field Studies and Lessons Learned." International Conference on Sustainable Resilient Remediation (ICSRR'23), Centre for Environmental Studies (CES), Department of Civil Engineering, College of Engineering Guindy (CEG), Anna University, Chennai, India, February 2, 2023
"Electrokinetic Remediation of Polluted Heterogeneous Subsurface Environments." Keynote Presentation, 18th International Symposium on Electrokinetic Remediation (EREM2022), University of Le Havre-Normandie, France, September 20, 2022.
"Sustainable Cover System to Control Fugitive Gas Emissions at Landfills and Waste Dumps." Keynote Presentation (Online), First International Conference on Recent Advances in Sustainable Environment (RAiSE 2022), February 27, 2022.
"Modeling Coupled Dynamic Processes in Landfills: Holistic Long-Term Performance Management to Improve Sustainability." Keynote Presentation at the 3rd International Conference on Geotechnical Engineering (Virtual), Organized by the Sri Lankan Geotechnical Society, Sri Lanka, December 6-7, 2021 [YouTube Video]
Research Currently in Progress
Development of Novel Chitosan-Biochar-Bentonite Composite Barrier Resilient to Changing Climate: Synthesis, Characterization, and Containment Mechanisms. US National Science Foundation
Innovative Biochar-Slag-Soil Cover System for Zero Emissions at Landfills. US National Science Foundation (See Short Video)
Modeling Coupled Dynamic Processes in Landfills: Holistic Long-Term Performance Management to Improve Sustainability. US National Science Foundation