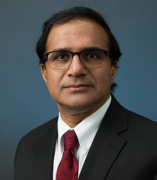 Krishna R. Reddy, PhD
Professor, University Scholar & Distinguished Researcher
Director, Geotechnical & Geoenvironmental Engineering Laboratory & Sustainable Engineering Research Laboratory
Civil and Materials Engineering
Contact
Building & Room:
2091 ERF
Address:
842 West Taylor Street, MC 246, Chicago, IL 60607
Office Phone:
Email:
CV Link:
Related Sites:
About
Research Interests
Geoenvironmental Engineering: Environmental remediation of soils, sediments, stormwater, and groundwater; Solid and hazardous waste management and landfill engineering; Engineering applications of waste/recycled materials
Sustainable Engineering: Life cycle assessment, sustainability analytics, and sustainable engineering, with special focus on green and sustainable: (a) civil infrastructure materials & systems, and (b) environmental pollution control and remediation technologies
Geotechnical Engineering: Soil mechanics and testing, site characterization, foundations, earth-retaining and earth structures, ground improvement, geomechanics, geotechnical earthquake engineering, and sustainable and resilient geo-systems
For more details, see Geotechnical and Geoenvironmental Engineering Laboratory and Sustainable Engineering Research Laboratory
Selected Publications
Books:
Selected Publications:
Feng, Y-S., Du, Y-J., Xi, W-Y., and Reddy, K.R. (2019). "Pilot-scale field investigation of ex situ solidification/stabilization of soils with inorganic contaminants using two novel binders." Acta Geotechnica, (DOI: 10.1007/s11440-019-00835-5).
da D Trentin, S. A., Reddy, K. R., Kumar, G., Chetri J. K., and Thome, A. (2019). "Quantitative Assessment of Life Cycle Sustainability (QUALICS): Framework and its application to assess electrokinetic remediation." Chemosphere, 230, 92-106 (DOI: 10.1016/j.chemosphere.2019.04.200).
Reddy, K.R., Gopakumar, A., Chetri, J.K., Kumar, G., and Grubb, D.G. (2019). "Sequestration of landfill gas emissions using basic oxygen furnace slag: Effects of moisture content and humid gas flow conditions." Journal of Environmental Engineering, ASCE, 145(7), 04019033 (DOI:10.1061/(ASCE)EE.1943-7870.0001539).
Reddy, K. R., Amaya-Santos, G., Yargicoglu, E., Cooper, D. E., and Negri, M. C. (2019). "Phytoremediation of heavy metals and PAHs at slag fill site: three-year field-scale investigation." International Journal of Geotechnical Engineering, 13(1), 32-47. (DOI: 10.1080/19386362.2017.1318231).
Kreling, N.E., Zaparoli, M., Cecchin, I., Thomé, A., Reddy, K. and Colla, L.M. (2018). "Inactive yeast biomass and mannoproteins influence the retention and biodegradation of biodiesel in soil." Environmental Quality Management, 28, 105-112 (DOI:10.1002/tqem.21590).
Basha, B. M., Sai Raghuram, A. S., and Reddy, K. R. (2018). "Reliability analysis of transport of nanoscale iron particles in saturated porous media." Journal of Geotechnical and Geoenvironmental Engineering, 144(12), 04018090 (DOI: 10.1061/(ASCE)GT.1943-5606.0001979).
Reddy, K.R., Kumar, G., and Giri, R.K. (2017). "Influence of dynamic coupled hydro-bio-mechanical processes on response of municipal solid waste and liner system in bioreactor landfills." Waste Management. 63, 143-160. (DOI: 10.1016/j.wasman.2016.12.040).
For others, see Geotechnical and Geoenvironmental Engineering Laboratory
Notable Honors
2018, Wesley W. Horner Award, Environmental & Water Resources Institute (EWRI), American Society of Civil Engineers (ASCE)
2011, Hogentogler Award, American Society of Testing and Materials (ASTM)
2007, University Scholar Award, University of Illinois
2007, Award for Excellence in Teaching, University of Illinois at Chicago
Education
Ph.D., Civil Engineering (1990), GPA: 4.0/4.0
Illinois Institute of Technology
M.S., Civil Engineering (1985), Gold Medalist
Indian Institute of Technology-Roorkee, India
B.S., Civil Engineering (1983), Gold Medalist
Osmania University, Hyderabad, India
Licensures and Certifications
Registered Professional Engineer (PE), State of Illinois #062-049625
EnvisionTM Sustainability Professional (ENV SP)
Professional Memberships
Fellow, American Society of Civil Engineers (FASCE)
Diplomate, Geotechnical Engineering (DGE), Academy of Geo-Professionals, American Society of Civil Engineers
Board Certified Environmental Engineer (BCEE), American Academy of Environmental Engineers & Scientists
Selected Presentations
"Climate Change, Resiliency, and Sustainability: Broader Challenges to Urban Planning and Infrastructure." Invited Presentation, Workshop on Planning and Construction of Sustainable Cities, National University of Córdoba, Córdoba, Argentina, May 28, 2019.
"Framework for Integrating Sustainability into Civil and Environmental Engineering Projects." Invited Keynote Presentation, 4th International Conference on Civil, Environmental, Geology and Mining Engineering, Trabzon, Turkey, April 20, 2019.
"Risk, Sustainability and Resiliency Considerations in Polluted Site Remediation." Invited Plenary Presentation, 8th International Congress on Environmental Geotechnics, Hangzhou, China, October 28, 2018.
"Green and Sustainable Remediation of Polluted Sites: New Concept, Assessment Tools, and Challenges." Invited Keynote Presentation, XVI Danube - European Conference on Geotechnical Engineering, Skopje, R. Macedonia, June 7, 2018.
Research Currently in Progress
Innovative Biochar-Slag-Soil Cover System for Zero Emissions at Landfills." National Science Foundation.
Modeling Coupled Dynamic Processes in Landfills: Holistic Long-Term Performance Management to Improve Sustainability." National Science Foundation