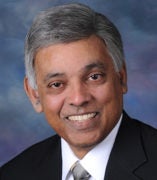 Muthiah Kasi, MSCE
Professor of Practice
Civil, Materials, and Environmental Engineering
Contact
Building & Room:
2095 ERF
Address:
842 West Taylor Street, Chicago, IL 60607
Office Phone:
Email:
About
Research Areas
Mr. Kasi, currently Chairman of the Board at Alfred Benesch & Company, is a practicing civil/structural engineer specializing in bridge design. He is an internationally recognized contributor in the fields of Value Engineering (VE) and life cycle cost analysis. With more than 43 years of experience as a project manager and project engineer on highway, bridge and building projects. He has authored and co-authored several publications for ASCE, CRSI, NIST and ASTM. He is currently the Recertification Director for SAVE International and Sub-Committee Chairman for ASTM E06.81-Building Economics.
Selected Publications
2009: Function Approach to Transportation Projects Author: The only book of its kind to specifically address the application of VE principles to transportation projects.
1986: Function Analysis – The Stepping Stones to Good ValueCo-Author: A premiere textbook on VE, translated into both Spanish and French.
1986: An Introduction to Function Analysis for Architects, Engineers and Builders
National Institute of Standards and Technology (NIST)
2011: "Benefits of Using ASTM Building Economics Standards for the Design, Construction, and Operation of Constructed Facilities."
2010: "Proposed UNIFORMAT II Classification of Bridge Elements"
American Standards for Testing Materials (ASTM)
2007: "Managing Transportation Projects with ASTM International Standards"
2006: Standard for Function Analysis, Value Engineering
I-94 Modified Tied-Arch Bridge Publications and Presentations 2007: International Bridge Conference
2007: World Steel Bridge Symposium & Workshops
2006: Structural Steel Magazine
American Concrete Institute (ACI) 1984: Cost of Reinforced Concrete High-Rise Columns: SP 90-14
American Society of Civil Engineers (ASCE) 1989: "Special Topics in Bridge Design & Inspection
Manual: Quality on the Constructed Project
International Society of Parametric Analysis (ISPA) and the Society of Cost Estimating and Analysis (SCEA) "A Unique Model for Life Cycle Costs"
Concrete Reinforcing Steel Institute (CRSI) Publications "Guide to Structural System Selection" "Workbook for Evaluating Concrete Building Design" "Building Design Concepts: An Architectural Perspective" "A New Look at Short-Span Reinforced Concrete Bridges" "SLABBRDG: Design of Continuous Reinforced Concrete Slab Superstructures for Bridges"
Notable Honors
2009, Outstanding Achievement in Management Award, SAVE International
2008, Civil Engineer of the Year Award, ASCE
2007, First Prize Paper, ASTM Advantage Award, for "Managing Transportation Projects with ASTM International Standards", ASTM
Licensures and Certifications
Professional Engineer: IL, FL, KY, MI, WI
Structural Engineer: IL
Certified Value Specialist – Life (1983)