Breaking big beams in High-Bay Lab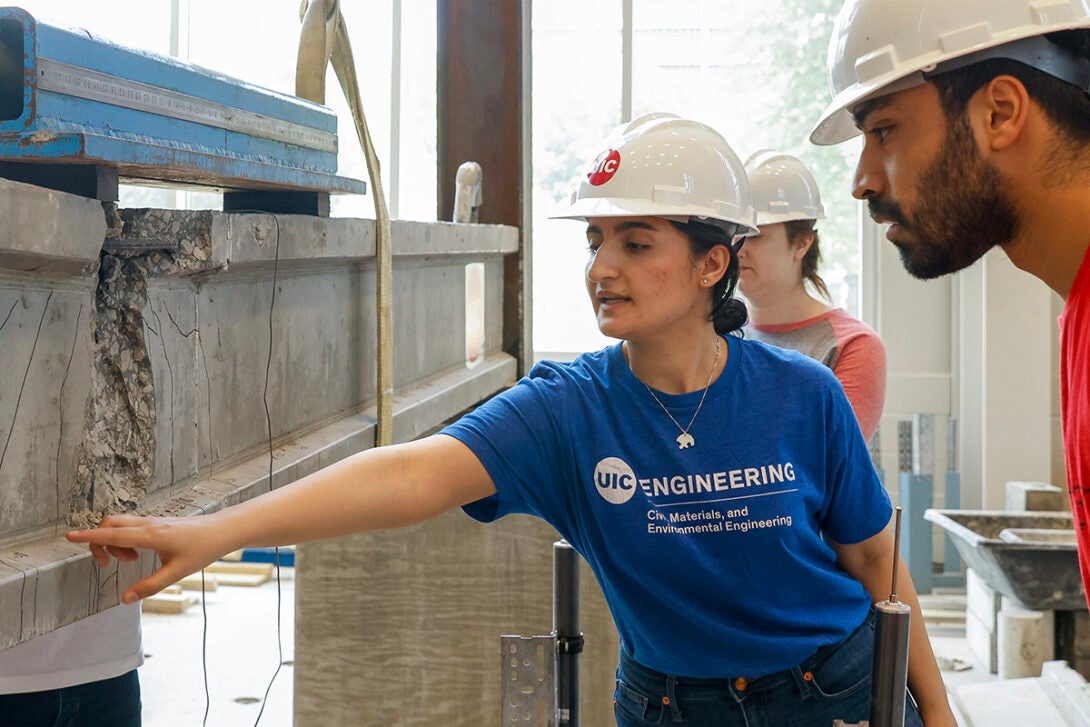 A team of UIC graduate students in the civil, materials, and environmental engineering department teamed up with the County Prestress company to compete in the Precast/Prestressed Concrete Institute (PCI) Engineering Design Competition, also known as the Big Beam competition.
The competition challenges students to design, build, and test a 20-foot-long precast, prestressed concrete beam with a PCI producer member.
"We'd love to encourage students to be more active with the precast industry, teach them about it, and have them be excited about it," said Ali Shrih, of County Prestress, who acted as a mentor for the students and a test monitor for PCI.
As a research institution, UIC offers students the opportunity to be part of competitions like Big Beam and bring their ideas to life.
"Being in the classroom is great and learning the theory is fantastic, but once you get your hands dirty and actually seeing something go from the paper to the manufacturing process is the most exciting part of engineering. These competitions allow us to do that," said PhD candidate Raguez Taha.
"This gives them the experience to visualize how a failure happens and they can see the difference between their hand calculations and actual numbers," said Professor Didem Ozevin, who is serving as the team's advisor. "Visualization is critical for civil engineering students to understand the failure pattern."
The UIC team is made up of Taha, Caitlin Koziel, Said Elferachi, and Haider Himairi. Additional support was provided by Professor Lesley Sneed, Professor Mohsen Issa and his students, and the support staff in the High-Bay Structures Laboratory where the beam was tested.
"The High-Bay Lab is a great facility with bright light, a wonderful setup, a lot of room to work, and the equipment we have is easier to handle when dealing with something this size," said Taha.
Entries are judged on a variety of criteria, including the beam's performance in stress tests simulating types of real-life conditions structural building and infrastructure components endure to ensure safety, as well as the quality of their analysis, presented in the form of reports and a video overview of their projects.
With the test completed on May 31, the team must compare their predictions with experimental measurements from the test and submit them to PCI. The winners will be announced in April 2024.