CME students bowl over the competition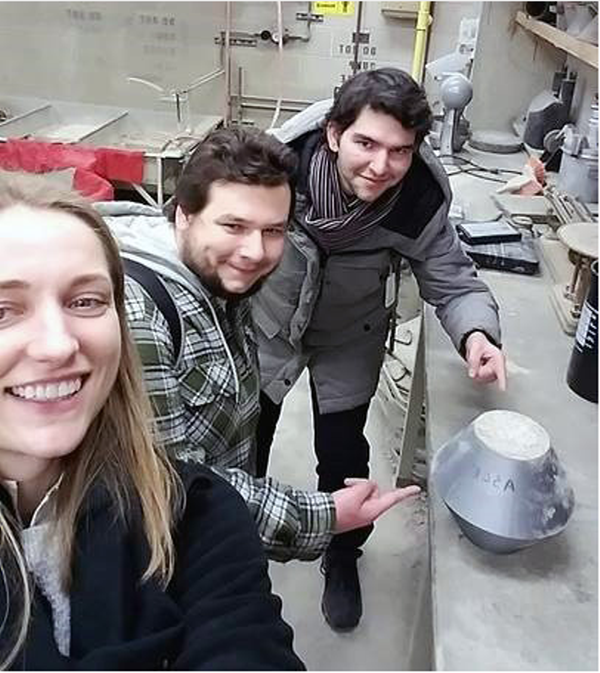 CME student Ioannis Peiralis bowled over the competition to win first place on Feb. 10 during the Student Concrete Bowling Ball Competition hosted by Illinois Chapter of ACI (American Concrete Institute) in Elmhurst, Illinois. The win includes a prize of $750 and a spot in the national competition in Utah.
The team consisted of Peiralis, Magda Przewozniak, and Mitchell Horn, but Przewozniak and Horn couldn't attend due to work obligations. That left Peiralis alone to represent UIC and take on the teams from Valparaiso University and Bradley University. Apart from the students, six professional engineers made bowling concrete balls for the event. A total of 17 people participated with concrete balls.
"Bowling with the ball was easy," said Peiralis. "The challenge was how to mold the ball and how to get the weight right."
Designing and making the ball is where Przewozniak and Horn contributed to the team. They decided to 3D print the mold to get exact measurements and they used lightweight aggregate – a material or structure formed from a loosely compacted mass of fragments or particles – to deal with the weight.
"We got lucky with the final weighing as the weight was 5.55 kg (approximately 12 pounds)," said Peiralis. "The limit was 5.5 kg, but it was at the judge's discretion."
When the students started, they weren't sure if they would finish because they decided to compete approximately 10 days before the competition. However, as the team went on mixing, pouring, and talking more, they believed they could do well at the event. With limited time to prepare, they were not able to test the concrete or allow it too fully cure, but the professionals running the event said they made a good mix.
"We really enjoyed doing this project," said Peiralis. "There were times when we thought about giving up, but we eventually hit a point of no return and kept going. Good thing we did because it paid off and now we are planning to go to nationals in Salt Lake City."
The competition objective is to demonstrate the effect of fibers reinforcing concrete, to gain experience in forming and fabricating a fiber-reinforced concrete element, and to encourage creativity in engineering design and analysis.
"We will be making a new ball for nationals," said Peiralis. "We will be using the same mix from the regional competition, but we will try variations because we have time to test the mix. We need to make two balls so we're going to test some options for molding the balls this time around."
The full and final results of the competition will be announced on Feb. 21 during an awards dinner hosted by Illinois Chapter of ACI. The national competition is set for March 25, 2018, in Salt Lake City.
Learn more about CME at http://cme.uic.edu.
Modified on August 15, 2019