Making an impact through engineering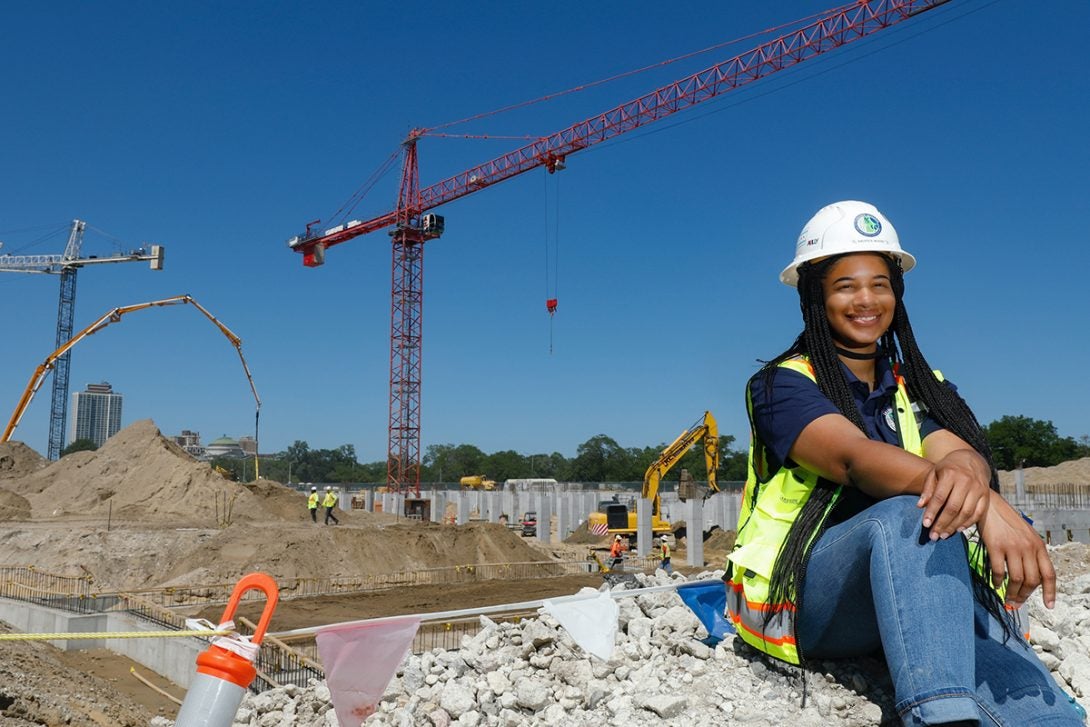 Kristen Moore wants to make the world a better place, and she is planning to do it through engineering.
Moore, a master's student in the Construction Engineering and Management program in civil, materials, and environmental engineering at UIC, earned a bachelor's degree in biology and had the idea to help people through medicine. However, her desire to work with people and be hands on led her to the CME program.
"I thought I could make a bigger impact in engineering construction," she said. "I want to be part of something bigger than myself. Something I can say I was part of, but it is a group effort, and my portion made a difference and will be there for a lifetime."
Moore is kick starting her career as a project manager intern with Lakeside Alliance, the builder of the Obama Presidential Center in the Hyde Park neighborhood in Chicago.
"I'm getting assigned critical tasks and helping on the progression of the project and what needs to be delivered," she said. "I'm learning realistically what it's like to be a construction engineer. I'd like to establish a firm grasp of what it takes to construct a building."
Preparing students for real-world success is the goal at UIC. For students like Moore, it involves understanding terminology, what it's like to be a construction project manager, and having a thorough grasp of industry rules and regulations.
"When I walk into a job, I understand what's going on and what's asked of me," she said. "UIC really helped me understand at a high level so I can learn faster, and employers are not breaking everything down to square one on the job site."
In addition to an internship, Moore is helping others as an active member of student organizations. She was recently named the president of the UIC chapter of the Construction Management Association of America (CMAA).
"I want to expose more students, especially undergraduates, to all the different job opportunities, and how CMAA can help them get internships and grow their networks," she said.
She also is a member of the American Society of Civil Engineers (ASCE), and mentored undergraduates as they prepared for the construction engineering project at the annual Western Great Lakes Student Conference in 2022.
Moore's leadership and achievements led to her receiving the prestigious National Academy of Construction Scholarship Award. The highly selective and competitive award is presented to only a few students across the nation who demonstrate excellence in education and future professional career success.
"She is a hard-working and dedicated student who always demonstrates high levels of integrity, involvement, and professionalism. I am sure that she will be one of the most successful graduates of our program," said Hossein Ataei, director of the Construction Engineering and Management program at UIC.
Modified on August 26, 2022