Professor Ansari honored with life-time achievement award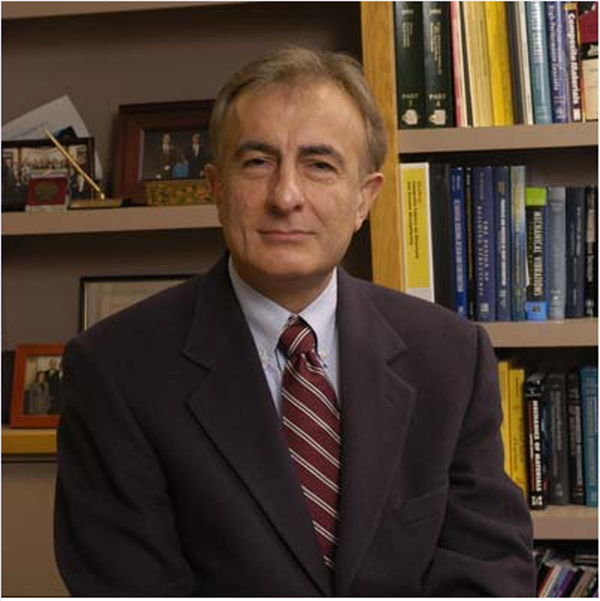 Dr. Farhad Ansari, a Christopher B. and Susan S. Burke Professor of Civil Engineering, was named a winner of the Aftab Mufti Life-Time Achievement Award by the International Society of Structural Health Monitoring of Intelligent Infrastructure (ISHMII) and its Executive Committee.
Ansari was named a winner for his contributions to Civil Structural Health Monitoring, and will officially receive the award at SHMII-9 in St. Louis, Missouri, in 2019.
He is a pioneer in the field and his work introduced the subject of fiber optic sensors in Civil Structural Applications, and still doing it to date. Since then, many began working on the subject around the world.
"Farhad's work in the use of fiber optic sensors for structural health monitoring applications is exemplary," said Dr. Sreeni Allampalli, the Director of Structures Evaluation Services Bureau for NYSDOT. "At the same time, his contribution to young and growing professional society ISHMII is great. He brought a systematic structure to it to make sure it stays for a foreseeable future in fulfilling its mission of promoting smart structures through technology transfer and other activities. Farhad also has been a good mentor to young researchers."
Ansari is one of only three people globally to win the award. He is joined in this honor by Dr. Yozo Fujino, of Japan, and Dr. Wolfgang Habel, of Germany.
Candidates for this distinguished award were nominated by the ISHMII Council with the support of known leaders in the field. The assessments were conducted by a committee formed of previous recipients of this prestigious award, which was made up of Dr. Urs Meier, of Switzerland, Dr. Zhishen Wu, of China, Dr. Jan-Ming Ko, of Hong Kong, and chair of the Committee Dr. Aftab Mufti, of Canada.
Ansari was highly recommended by his peers who praised his contributions to engineering.
"As an internationally well-known distinguished scholar and one of the most influential thought-leaders in [his research] areas, Professor Ansari has made many pioneering contributions to discrete and distributed fiber optic sensing and monitoring of different civil structures including bridge and heritage buildings," said Dr. Zhishen Wu, Professor and Head of the Department of Urban & Civil Engineering at Ibaraki University in Japan. "Professor Ansari is not content to have his research findings published in distinguished scientific journals. He is very involved in putting his research into practice by applying the theories and discoveries he has made to practical use in field structures."
"Professor Ansari's dedication to advancing the field of SHM is remarkable," said Dr. Douglas Thomson, Professor of Electrical and Computer Engineering at the University of Manitoba. "He has made notable contributions to advancing the field through his time as the Editor-­‐in-­‐Chief – Journal of Civil Structural Health Monitoring – Springer. As the Editor-­‐in Chief of this journal he has steadily moved it forward in terms of profile and content. As this is the only journal dedicated to only addressing civil structural health monitoring this has been a major contribution to advancing the and disseminating civil SHM knowledge. In just the last year the journal has become more widely indexed, which makes in available to a much wider audience. His work guiding the journal through this critical growth phase has been commendable."
Learn more about Ansari and his research at Ansari Profile.
Modified on August 15, 2019