Researchers develop new time- and money-saving testing technique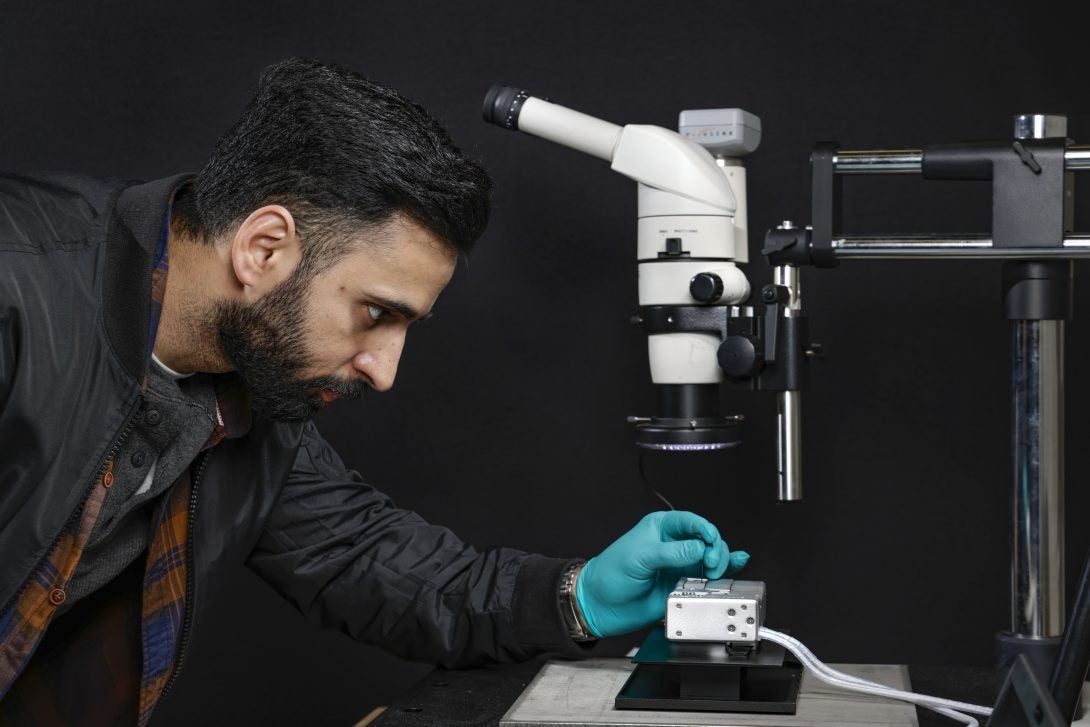 Junaid Ahmed, a civil, materials, and environmental engineering graduate student, has racked up several competition wins with his recently published research focused on the development and testing of a new class of alloys.
The PhD candidate captured first place at the "2021 Midwest SAMPE Virtual Student Research Symposium" with his research titled "Acoustic Monitoring of Deformation Sources in a Metastable High Entropy Alloy." The win earned him an all-expenses-paid trip to compete at the national University Student Symposium held at CAMX 2021 in Dallas, Texas, where he captured third place with his presentation.
"The materials science community is working tirelessly to meet one specific demand from the industry; lightweight and stronger alloys having the ability to withstand high temperatures. A recent success was the development of metastable high entropy alloys, which exhibit much higher strength and ductility in comparison to industry leaders," said Ahmed, who is working under the direction of Assistant Professor Matthew Daly in the Advanced Materials and Microstructures Lab and in collaboration with Professor Didem Ozevin. "Our lab manufactured this alloy to further explore the properties at various length scales and under various temperature conditions."
A key part of the research involved the way the alloys are tested. Instead of performing a tension test, which is a method where the materials are pulled until they break, Daly suggested using an indenter, which measures the hardness but doesn't destroy the material. They combined the test with Ozevin's acoustic emissions equipment to record what happens during the testing.
"Tensile testing is a destructive technique that breaks the sample and it cannot be used anymore," Ahmed said. "However, the new technique that we propose is nondestructive. It indents the surface, and a tiny spot is ruined, but other than that, your sample is same. We can perform hundreds of tests on the same specimen."
The new non-destructive technique will save researchers time and money. In addition to getting multiple uses from one sample, researchers can avoid spending hundreds of hours creating multiple testing materials.
Ahmed's research also received earned him a third-place win during the annual 2021 Christopher Burke and Susan S. Burke Civil Engineering Poster Competition in the civil, materials, and environmental engineering department at UIC.
Modified on January 18, 2022