Think outside the bus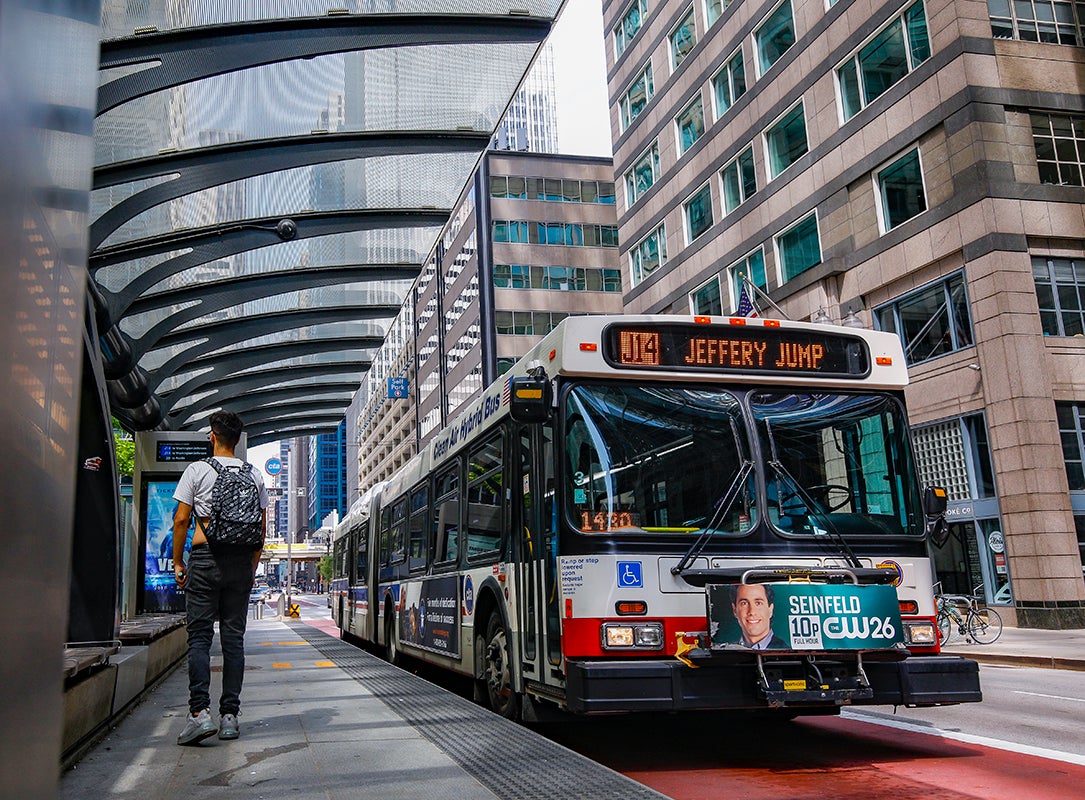 Years from now, we could be marveling at massive changes to urban transit in Chicago and thinking to ourselves:
"All of this happened because of an empty bus."
The year 2020 rendered Chicago public transit unrecognizable—from a revenue perspective, not in a good way. Due to COVID-19, traffic volume plummeted as lockdowns shuttered businesses and kept many people working from home. Here in Chicago, that meant CTA buses and trains running on a normal schedule throughout the crisis, often with few or no passengers.
For Jane Lin, a professor of civil, materials, and environmental engineering, the nearly empty buses sparked an idea for the future of transportation in this city.
"This is a waste of resources, a waste of capacity, and a waste of energy," she recalled thinking. "What if we could utilize the capacity a little bit better?"
Got an idea? Ship it
Lin's first idea was to fill the empty bus space with packages. The need for so-called "last mile delivery" had surged as shopping went online during the pandemic. The CTA already had the infrastructure, she theorized, from routes to vehicles. Add an agreement with shipping companies, and giant city buses could move goods when they are not moving people.
In September 2020, Lin's outlook changed somewhat. She attended a talk about an innovative technology that she felt could provide public transit and last-mile logistics services at the same time, solving transportation issues she observed throughout the city.
The technology is called an "autonomous modular vehicle technology-based multifaceted mobility service system." Lin broke that terminology down for us:
"Each vehicle is called a pod, and they are like a small van," she explained. "The pods can be dynamically connected into a train while they are moving, and people can switch pods while it's moving, too. The pods can split up if they need to go to different places, in what's called an 'en-route transfer.'"
Suddenly, Lin had a vision for a modular, adaptable new transportation system for Chicago: one that could accommodate packages as well as people, and one that could grow, shrink, or shift to adapt to the needs of any given day or neighborhood.
Now what?
The vision of a more flexible, needs-oriented CTA is enticing.
Picture people-moving pod units coming together in a bigger train to handle higher demand during rush hour. Picture them splitting apart at the end of the day, either taking niche neighborhood routes or returning to base.
Picture space on the pods for UPS, FedEx, Amazon, and other companies to deliver packages. Picture pods serving as mobile pharmacies or grocery-delivery units to reduce the number of trucks in neighborhoods. They might deliver not to an individual house, but to a mobile mailbox or package drop box stationed on a corner.
"There are many types of services that can be developed with this technology," Lin said.
Lin envisions environmental benefits as well as logistical ones. "It is powered by electricity, so there are zero emissions," she said. "The vehicle is smaller when there isn't a need for a larger one, which reduces energy consumption, emissions, and traffic congestion because it's not taking up as much space."
While this technology offers the potential for positive change, it also raises questions. Would the organizations involved, from the CTA to shipping companies, see autonomous modular vehicle technology as an opportunity or a threat? Can transit agencies work with private companies to adapt people-moving vehicles and routes for packages, and if so, in what form and capacity? What should the government's role be, and what does the business model look like?
Joining Lin to help answer these questions is Kazuya Kawamura, a professor in urban planning and public affairs and in civil, materials, and environmental engineering at UIC. He is working on the policy aspect of the research process, including collecting feedback from practitioners in the freight and transit industries.
"I don't think the transit or logistics industry thought about operating with each other," Kawamura said. "We want to know the challenges of operating that way."
He is collecting data on how each group in the possible collaboration would see advantages and disadvantages. "It could be a technological challenge, operational challenge, or legal challenge," he said. His data will inform a computational and mathematical analysis conducted by Lin and Marco Nie, a professor at Northwestern University.
Infrastructure and safety are among the considerations that the researchers are investigating. Helping the city of Chicago and its residents is foremost in their minds.
Survey says change
Forecasting the demand for a modular, flexible service like the one Lin and Kawamura are evaluating is important. Two of Lin's colleagues in UIC civil, materials, and environmental engineering, department head Abolfazl (Kouros) Mohammadian and associate professor Sybil Derrible, are conducting research that could help make predictions.
They and collaborators at Arizona State University surveyed nearly 9,000 people about their habits during the pandemic, and results indicate that some of the transit-related changes wrought by the coronavirus are here for the long term.
"While we do not observe any radical shift in how people expect to live after the pandemic, some small shifts are expected to have a large impact," Derrible said.
Their survey covered a range of topics including commuting, daily travel, air travel, working from home, online learning, shopping, and risk perception. They seek to measure the potential for long-lasting changes and what those shifts could mean for our cities, including transportation networks like the CTA.
The study reveals a decline of up to 40 percent in commuter vehicle travel to date and predicts more empty seats on mass transit systems in the post-pandemic world. Current data support that analysis: as of May 2021, CTA buses and trains in Chicago carried about one-third of their pre-pandemic ridership, with Metra commuter rail service at 13 percent compared with the same month in 2019.
"Transit will probably have to adapt in a post-COVID world because people won't use transit five days a week," Derrible said. "For me, the question is: how is transit going to respond to the decline in ridership?"
The vision of the future that Lin is studying may offer clues. By modeling the integration of passenger and freight services and by optimizing fleets, capacity, and resources, Lin and her team are optimistic that new technology can revolutionize transportation in Chicago.
"The hypothesis is that this type of technology does not solve the entire problem of public transit," Lin explained. "It has to be a combination of traditional transit services and this type of service."